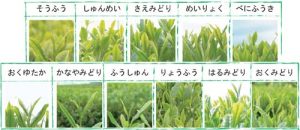 There are many Japanese tea cultivars, although in reality only a few are extensively cultivated.
I'm sure that Japanese tea enthusiasts would like to know about all the ones that are available.
For this reason, I decided to list the registered cultivars.
Note that there are also non-registered cultivars being used in Japan, but I don't know the reason why they aren't registered. Maybe it takes a long time to do so?
Update: Information provided by Fumiki Kawaguchi from Shinkoju.
Registering a cultivar is optional, so many cultivars are used without being registered. For example the Yutakamidori cultivar which in cultivated area ranks second, never went through the proper cultivation testing but many prefectures wanted it so it spread anyway.
Some of them have failed the selection process in the past but as times changed they gained more attention, such as the Shizu-7132 cultivar.
Other times, the cultivar is commercialized before the judgment for registration begins and hence it is disqualified, such as the Kouju cultivar. There are many reasons why a cultivar isn't registered.
From what I understand, the process is now governed by the NARO (National Agriculture and Food Research Organization). However, in the past another organization was in charge.
There are actually two systems in which tea cultivars are registered. The first one is the Agriculture and Forestry Certified Cultivars (農林認定品種) under MAFF (農林水産省), and the Seed and Seedling Law Registered Cultivars (種苗法登録品種).
The first one was the original and has had changes along the way. The second one is more recent, and it takes into account that since it takes a long time (decades) for cultivars to be registered under the Agriculture and Forestry system, one can still apply this one to seedlings that are being raised and thus protect the intellectual property of the breeders.
Some cultivars are registered in both lists.
Agriculture and Forestry Certified Cultivars
The list covers cultivars since 1953, when cultivars were first registered in Japan. The last one is in 2017, which is believe is the most recent.
By the meaning of their names in Japanese, one can tell many things.
For example, the ones that have "midori" (green) are for green tea. On the other hand, cultivars meant for black tea have "beni" (red) in them. Remember that black tea is actually red tea in Japan.
Also, the cultivars with "oku" (interior) in their name are late budding, or banseishu (晩生種). Those with "wase" (early crop) are early budding cultivars. This is all relative to the Yabukita cultivar.
As you can see in the list, the popular Yabukita cultivar is very old, it was registered in 1953, along with 15 other cultivars.
Seed and Seedling Law Registered Cultivars
Unregistered Japanese Tea Cultivars
Updated: Mar 2023
Sources:
http://www.naro.affrc.go.jp/patent/breed/0200/0206/index.html
http://minorien.jp/university/hinshu.pdf