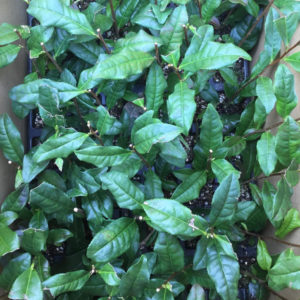 Ujihikari (うじひかり) is an unregistered cultivar which is nevertheless not so uncommon in Kyoto prefecture.
Like many of the cultivars developed in Kyoto prefecture, it is meant for gyokuro and tencha production.
History of Ujihikari
A tea plant from Uji was selected and its offspring were bred until one was chosen in 1954 by the Kyoto Prefecture Tea Industry Research Institute (京都府茶業研究所).
It was named Ujihikari.
Characteristics of Ujihikari
It is an normal budding cultivar with medium vigor and yield.
One thing that stands out about its leaves is their shape. It looks as if they had been bent into a wave pattern.
The leaves are also thin and soft, resulting in gyokuro and tencha of good shape, color and luster.
When shaded, it offers a desirable marine aroma.
Ujihikari has a slightly weak resistance to cold weather, and a medium resistance to anthracnose.