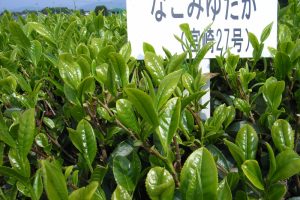 Nagomiyutaka (なごみゆたか) can be translated as "relaxing richness".
It was named this way because it is rich in L-theanine, which is a relaxing compound.
History of Nagomiyutaka
In 1988 at the tea branch of the Miyazaki Research Institute, a cultivar called Saitama #16 (埼玉16号) was crossed with a native cultivar from Fukuoka called Fuku 8 (福8).
Saitama #16 is a cross of Yamatomidori, and Sai 23F1-17, which in turn comes from Yabukita and Sayamamidori.
The idea was to find a superior cultivar for producing kamairicha.
The best seedling from the batch was tested on various occasions, until it was named Nagomiyutaka and it became registered in 2012.
Characteristics of Nagomiyutaka
Nagomiyutaka is a normal budding cultivar. It can be picked one day later than Yabukita.
Its young leaves have an elliptical shape and are larger than those of Yabukita.
Their thickness and color is about the same as Yabukita, but it has more luster.
Mature leaves of Nagomiyutaka are also elliptical in shape, bigger than those of Yabukita, and a little thicker.
They have a darker green color than Yabukita, with luster.
Nagomiyutaka has a similar resistance to cold weather as Yabukita, but the yield at harvest is higher.
This cultivar is slightly resistant to the gray blight, but somewhat weak against anthracnose, the blister blight, and the white peach scale.
It makes a kamairicha and even a sencha of good quality.
A sweet and floral aroma plus a flavor with much umami taste.
In addition, it offers good results as an oolong.