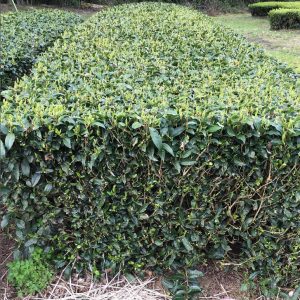 Sawamizuka (さわみずか) is a late budding cultivar with high yield.
Its name comes from an alternate reading for the Chinese characters of the region where it was cultivated: Sabaka (沢水加).
It is meant for sencha production.
History of Sawamizuka
At present day Tea industry research center of Shizuoka prefecture, the Yabukita cultivar was crossed with Fujimidori and the best seedling was selected in 1966.
It was tested in 1974, then in 1992 it was named Sawamizuka and acknowledged as a high quality cultivar.
Its use was promoted in Shizuoka prefecture.
In 1995 it was registered under the seed and seedling law.
Characteristics of Sawamizuka
This cultivar can be harvested 6 days later than Yabukita.
Its mature leaves have a green color with less luster than Yabukita.
They also have a long oval shape and a medium size.
Young leaves of Sawamizuka have an oval shape and are slightly small.
The cuttings of this cultivar take root easily and have a good growth.
It is as resistant to cold weather just like Yabukita, fairly strong against anthracnose, has medium protection to the gray blight, and is weak against the bacterial shoot blight.
Sawamizuka also offers a higher yield than Yabukita.
As a sencha, its leaves are thin and have a deep green color. 
This cultivar works bettter as a fukamushi sencha.
It has an different aroma than Yabukita, but it is refreshing and pleasant.
Although its taste is slightly astringent, it feels very fresh and has a good body.