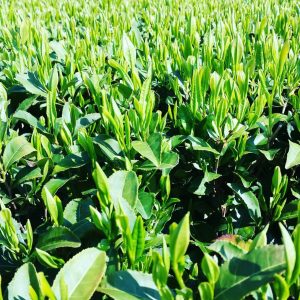 Asanoka is one of those Japanese cultivars that are uncommon, but you can manage to buy a sencha made with it outside Japan.
It is mostly cultivated in Kagoshima prefecture.
History of Asanoka
Asanoka was developed in Kagoshima prefecture by crossing Yabukita and a Chinese cultivar named Hiramizu #1 ( 平水1号).
I couldn't find any information about Hiramizu #1. My wild guess is that it may come from Pingshui town (平水镇) in Zhejiang province, China.
That location is of historic importance in the production of gunpowder green tea.
After applying in 1994, Asanoka was registered in 1996 with number 5013 under the Seed and Seedling Law.
Characteristics of Asanoka
This cultivar is slightly early budding, with a strong cold resistance.
Young leaves of Asanoka are elliptical in shape, slightly thin and soft, and have a yellow-green color with some luster.
Its cuttings take root easily, and the yield at harvest is high.
It naturally contains a good amount of amino acids.
This cultivar is slightly weak against anthracnose, but fairly resistant to the gray blight.
As a sencha, it has a good appearance, taste, and aroma.
It is refreshing, with plenty of umami and noticeable sweetness.
The aroma is different than Yabukita, but pleasant.