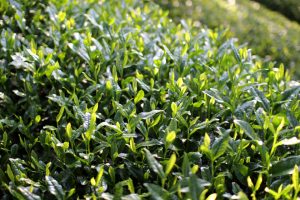 What do Gokou, Asahi, Ujihikari, and Samidori cultivars have in common?
First of all, they come from Kyoto prefecture. Second, they are used for gyokuro and tencha. Finally, they aren't registered.
Let's take a closer look at the Gokou (ごこう) cultivar in this post.
About the Gokou tea cultivar
I had a hard time researching this cultivar because there's few information available.
This must be because it isn't registered, although it's not a rare cultivar.
It originated from a seed of a native plant in Uji. Many such seedlings where raised and Gokou was selected as the best of them in 1953.
This was done at the Kyoto Prefecture Tea Industry Research Institute (京都府茶業研究所).
Unfortunately, I couldn't find the reason why this cultivar wasn't registered in the official list.
Characteristics of Gokou
Like many of the tea cultivars developed in the Uji region, Gokou is meant for gyokuro and tencha (which ultimately results in matcha).
That is, this cultivar gives good results when using the shaded cultivation method.
Its plucking period is three days later than the Yabukita cultivar.
This cultivar is strong against cold weather and has medium resistance to anthracnose.
The buds of Gokou have a pale green color and few wrinkles. Also, the yield is about the same as Yabukita.
When processed, the tea has a very notable aroma which is best if the tea leaves were shaded.
Gokou's finished tea leaves have a dark green color and a strong umami flavor. Again, this characteristic works best when shaded.
It's often used for gyokuro and matcha in Kyoto prefecture. As a cultivar for this types of tea, the quality is very good.
A sencha made from this cultivar is quite rare, and while being notably different it may not result in a superior sencha.
As with other tea cultivars developed in Kyoto, Gokou works well for this prefecture's soil and climate.
While I was in Uji, I remember that the owner of a tea store said that Gokou and Ujihikari made the best cultivars for the local matcha.
From my very limited experience, I can tell you that you can't go wrong with a matcha from Uji made with Gokou.
Sources: