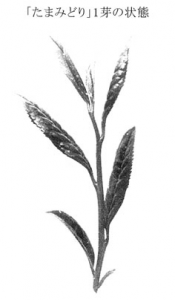 Tamamidori (たまみどり) is a very old tea cultivar, it was registered as Japanese tea cultivar #4 in 1953.
Although it is still being cultivated, it isn't widely available. I couldn't find a single picture of tamamidori's leaves, except for the one in black and white that you can see on the right 🙂
Some Japanese stores sell teas made from this cultivar online, but again, they only showed pictures of the package but not the loose leaf.
Characteristics of tamamidori
This cultivar is used in tamaryokucha, but it can also be made into sencha.
Tamamidori was selected from seedlings from Uji, and it makes a good quality tea.
This normal-budding cultivar is resistant to cold weather and has a good yield at harvest. Unfortunately, it is quite susceptible to some common diseases of the tea plant.
Its leaves are elliptical and of a greenish yellow color, with high luster.
I wish I could tell you about its taste, but I haven't drank a tea made from this cultivar yet. If I do try it some day, I will update this post.