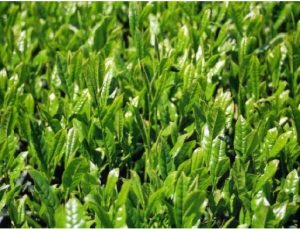 The Yumewakaba (ゆめわかば, dream young leaf) is a Japanese tea cultivar developed by the Saitama Prefectural Agriculture and Forestry Research Center.
Its yield at harvest and picking time are about the same as for the Yabukita cultivar.
History of Yumewakaba
In 1968, the Yabukita cultivar was crossed with a tea plant called Saitama number 9 (埼玉9号), which was selected from seedlings born naturally out of Yabukita seeds.
In 2006, Yumewakaba was registered as tea cultivar number 53.
Characteristics of Yumewakaba
This cultivar is resistant to cold weather in about the same degree as Yabukita.
Regarding diseases, it is strong against anthracnose but very weak against the mulberry scale.
The finished leaves have a better appearance than Yabukita, while the liquor's quality is the same.
If the leaves go through an icho (slight withering) process, they gain an aroma similar to osmanthus, which is absent in other Japanese tea cultivars.