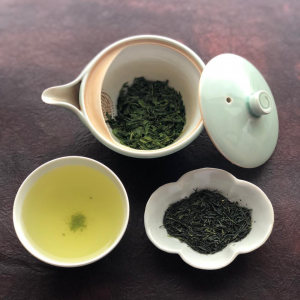 Shuntarou (しゅんたろう) is as far as I know the earliest budding cultivar in Japan.
This means that it can be harvested before other cultivars, which is an advantage for the highly desired first harvest of the year.
History of Shuntarou
In the warm regions of Japan, very early budding cultivars like Kuritawase became desirable.
However, Kuritawase suffers from a low yield. Another alternative was needed.
In 1990, a cultivar named Saitama number 9 (埼玉9号), known for producing a good quality tea, was crossed with Makura F1-33422 (枕 F1-33422 ), a cultivar with high resistance to diseases, at present day Institute of Fruit Tree and Tea Science in Makurazaki city, Kagoshima prefecture.
Makura F1-33422 is a hybrid of Kuritawase and Benitachiwase.
The best seedling was selected and was later named Shuntarou. It's meant for sencha production.
Characteristics of Shuntarou
The Shuntarou cultivar can be harvested up to two days earlier than Kuritawase. That is about two weeks earlier than Yabukita.
It offers a higher yield at harvest than Kuritawase, but compared to other cultivars it is still considered to be low.
Shuntarou is very strong against the gray blight, fairly strong against anthracnose, and slightly weak against the white peach scale.
This cultivar doesn't fare well in cold weather, so it best to cultivate it in the southern part of Japan.
Once processed, Shuntarou makes a sencha of good quality, with a sweet and fresh aroma.
The flavor has some astringenty, due to its Assam tea heritage.