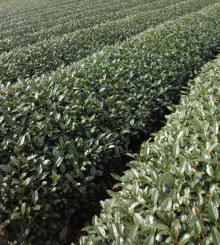 The Unkai (うんかい) cultivar is named "sea of clouds" (雲海) and is used for making kamairicha.
It was developed by the Miyazaki Agricultural Research Institute and registered in 1970 as tea cultivar number 29.
More about Unkai
This cultivar comes from a cross of Takachiho and a tea plant from the assamica variety named F1-9-4-48.
Unkai is very resistant to cold weather and diseases, plus the yield at harvest is also good. It can be harvested about the same time as Yabukita, making it a normal budding cultivar.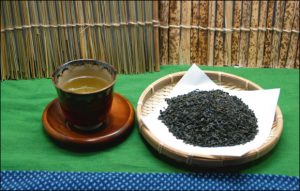 Its main feature is that it produces a high quality kamairicha with a characteristic aroma.
The leaves are big, have an elliptical shape and a dark green color.
One would think that because of the assamica heritage the tea would have more bitterness, but it is not the case. Perhaps this is due to the kamairi process?
Kamairicha production in Japan isn't very large when compared to more popular teas. Likewise, the Unkai cultivar makes just a tiny fraction of the cultivated area in Japan, with the largest being the Yabukita cultivar by far.