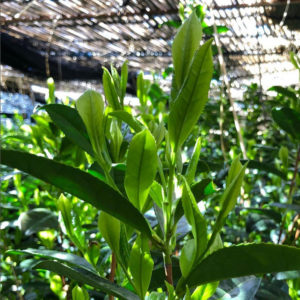 Asahi (あさひ), which means morning sun, is a tea cultivar from Kyoto prefecture.
It is especially suitable for tencha production.
Other cultivars from Kyoto that are commonly used for matcha are Samidori and Ujihikari.
History of Asahi
In Uji city, Kyoto prefecture, Hirano Jinnojō selected a tea plant from his tea field.
Later on, the Kyoto prefecture tea experimental center tested it since 1953 and named it Asahi.
It isn't registered under the agriculture and forestry, nor the seed and seedling law, however.
Characteristics of Asahi
Asahi is a normal budding cultivar.
When shaded, the buds have a bright green color with luster, and are big but thin.
Hand picking works best for Asahi. It offers a medium yield at harvest.
It doesn't fare well with excess humidity in the soil, so measures have to be in place.
This cultivar has strong resistance to cold weather, and medium resistance to anthracnose.
Once made into tencha, it offers high quality, bright green tea leaves. Hence, it makes a very good matcha.
It has a desirable fragrance and a rounded flavor.