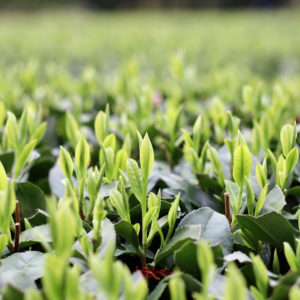 Harumoegi (はるもえぎ) can be translated as "yellowish green spring".
This tea cultivar is used for sencha.
It has a pleasant aroma and a balanced flavor.
History of Harumoegi
In 1981 at the Miyazaki prefecture agricultural experiment station, the cultivar Chamoto F1NN27, which has a good vigor, was crossed with ME52, which has a high quality and resistance to the gray blight.
Chamoto F1NN27 (茶本F1NN27) is a cross of the Yabukita cultivar and Shizuoka Zairai #16 (静岡在来16号) in 1953.
ME52 comes from a native tea plant in Miyazaki prefecture selected in 1932.
The best seedling was selected, and it was named Harumoegi and registered in 2003.
Characteristics of Harumoegi
This normal budding cultivar can be picked one or two days later than Yabukita.
It has much vigor and takes root easily.
Yield at harvest is about the same as Yabukita.
Its leaves have an elliptical shape, are medium in size and in thickness.
Harumoegi is highly resistant to the gray blight, has a medium resistance to anthracnose, but it is very weak against the white peach scale.
Since it is as resistant to cold weather as Yabukita, it can be cultivated in most areas of Japan.
As a sencha, the tea leaves have a desirable green color.
The aroma is refreshing and sweet, while the taste is balanced but light.
Compared to Yabukita, Harumoegi has more amino acids and less catechins.
I haven't tasted this one yet, I hope that I get the chance one day.