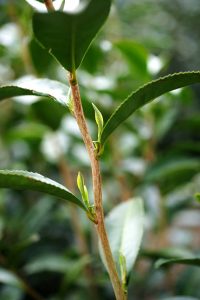 Soufuu (蒼風, そうふう) is a Japanese tea cultivar with a pleasant floral aroma. It loosely translates as "green wind".
It is intended for both sencha and oolong production, but it also gives good results as kamairicha.
While not one of the better known cultivars, it has been getting much attention in recent years.
History of the Soufuu cultivar
In 1977, Shizuoka prefecture, a Yabukita plant was crossed with another cultivar named Shizu inzatsu 131 (静印雑131).
Shizu inzatsu 131 belongs to the Assamica variety and has an Indian origin. The best seedling was selected out of these hybrids and named Soufuu.
Finally, it was registered in 2002 as Japanese tea cultivar #49.
Characteristics of Soufuu
What's most interesting about this cultivar is that it has a jasmine-like aroma that had never been present in Japanese tea cultivars until then.
Research showed that this is due to its anthranilic acid content, which is also found as an aroma component in jasmine.
This early-budding cultivar can be harvested up to a week earlier than Yabukita and has a similar yield.
Although Soufuu is resistant against some diseases, it is weak against the blister blight and the bacterial shoot blight, so care must be taken in places where these diseases are prevalent.
It also a little less tolerant to cold weather than Yabukita, so it's best suited to warm regions.
Soufuu releases less aroma with a longer steaming process, hence it doesn't do that well as a fukamushicha.