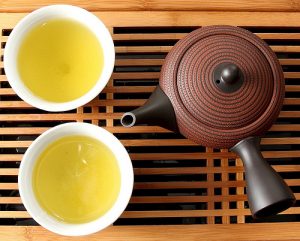 Did you know that once brewed, you can still get more flavor out of your green tea leaves?
You do so by re-steeping. Basically, all you have to do is add more water and brew again. It's a good way to save on expensive green teas.
Unlike other types of tea like oolongs and post-fermented teas, which can be re-steeped a high number of times, green tea leaves are limited by their delicate nature.
The basics of re-steeping
Let's say that you wanted to fully extract the flavor from your tea leaves into your cup of tea. What should you do?
Well, you can try boiling water and then steeping for a very long time. The problem is that the resulting tea is very astringent and bitter, basically making it undrinkable.
Since different compounds extract at different rates depending on water temperature, you need a certain balance to get the best flavor. That's what steeping guidelines are all about, otherwise all green teas would be brewed in boiling water.
So then, how to fully enjoy the flavor of your green tea? The solution is to make multiple infusions.
After the first infusion, the tea leaves still have soluble compounds that you can extract. Although there's a limit (at later infusions you can barely taste any tea), it's fun to try the different flavors each time.
There aren't any hard rules for water temperature and brewing time for multiple infusions, so it's mostly a matter of preference.
For example, some people like to increase the temperature a little after each re-steep, others increase/decrease the brewing time as well, and some people just do the same as they did on the first infusion each time.
I recommend that you start with the 3rd option, and modify from there.
By the way, decreasing the water temperature won't do any good, it'll just take longer for your next infusion. The reason why people use a higher temperature is to increase the extraction rate.
Re-steeping Gyokuro
Gyokuro is usually re-steeped up to four times, although it's common to stop at the third infusion. After the fourth, it tastes quite weak.
Have you noticed that the characteristic flavor of gyokuro (sweetness and umami) is almost absent after later infusions (at the same temperature and brewing time), and you begin to taste bitterness and astringency that weren't noticeable before?
To begin with, the amino acid content in gyokuro leaves, especially L-theanine, is low compared to the catechin and caffeine content. Furthermore, the standard way of brewing gyokuro is meant to maximize the extraction of L-theanine (sweetness) while minimizing that of catechin and caffeine (astringency and bitterness).
That means that after the first infusion, a good amount of the amino acids have been extracted but there's plenty of catechin and caffeine left for later infusions!
I suggest that you don't increase the temperature too much when re-steeping gyokuro, especially for the second one. I'd rather increase the steeping time, otherwise the delicate flavor may be ruined.
Re-steeping sencha
In Japan, sencha is rarely steeped more than three times. Of course, this depends on the specific sencha, and also your preferences.
I find that with a sencha that I like a lot, I'll go up to the fourth infusion, but after that it's not really worth it. The flavor is almost gone by then.
With fukamushi sencha, I find that a fourth infusion still tastes ok and the color isn't that pale, only the aroma suffers. I believe it's due to the small leaf particles present in this type of tea.
Re-steeping bancha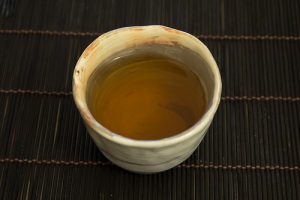 Bancha and other types of tea made with it, such as genmaicha and houjicha, have a very limited number of infusions. No more than two in most cases.
In genmaicha it's very hard to get past two, because the roasted rice gives off most of its flavor in the first infusion 🙁
Also, since they don't have much L-theanine content, they are brewed with boiling water. That means that all you can do is just use the same brewing time, or perhaps increase it for your next infusion.
Things to keep in mind
Keep the standard amount of tea leaves and use the same volume of water each time. If you get more infusions but you're doing it with more initial tea and/or less water, you're cheating 🙂
Re-steep as soon as you can, leaving the tea leaves wet makes them prone to degradation.
If brewing on a teapot, serve each infusion until the last drop. Otherwise there will be liquid with the leaves still brewing between infusions, which will alter your results.
Keep re-steeping until you don't enjoy the tea anymore. You don't have to re-steep for the sake of it, it's all up to you.