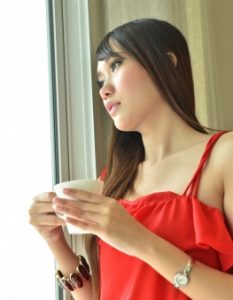 Did you know that only the tea plant (Camellia sinensis) and a few others contain L-theanine?
The characteristic flavor of green tea is due in large part to this particular compound. If you're a green tea lover like me, you'll definitely want to learn all about L-theanine.
What is L-theanine?
Green tea leaves contain many different amino acids. Amino acids are molecules containing an amine group(NH3), a carboxylic acid group(R-C=O-OH) and a side-chain that varies between different amino acids. They are the building blocks of proteins, although some of them don't form any proteins.
When green tea is brewed, only the water-soluble amino acids become relevant. L-theanine makes up to 60% of that amino acid content. Its molecular formula is C7H14N2O3, it is also known as 5-N-ethyl-glutamine, and it's a non protein-forming amino acid.
L-theanine is important because it adds to the umami flavor (tastiness) and sweetness of green tea.
What makes L-theanine so special?

So what else does L-theanine do besides providing flavor?
The main benefit of L-theanine is that it increases alpha brain wave activity, which induces relaxation. By relaxing you are effectively able to reduce stress!
On top of that, it combines with caffeine in a matter that produces relaxed alertness. L-theanine lets you enjoy the increased-concentration effect from caffeine (also found in green tea) without the associated anxiety and restlessness.
L-theanine was approved by The Japanese Ministry of Health and Welfare for universal consumption in 1964, while in the US the FDA approved its use as a dietary supplement.
L-theanine content in green tea
Gyokuro is known for having a high amount of L-theanine. Do you know why? L-theanine is slowly converted into catechins due to photosynthesis.
Because gyokuro cultivation involves shading the tea plant, less photosynthesis occurs so that more L-theanine is left on the leaves. In fact, L-theanine gives gyokuro its characteristic sweetness and balanced flavor.
Younger leaves have more L-theanine than older ones, while later harvests have each less L-theanine. Shaded teas like gyokuro, kabusecha and matcha are a good source of L-theanine. Also look for teas made from the first harvest.
There are more benefits of L-theanine, which I will be sharing with you on a later post about the health benefits of green tea. Meanwhile, relax with your favorite type of Japanese green tea with the help of L-theanine.
sources:
www.wikipedia.org
Asia Pacific Journal of Clinical Nutrition; L-theanine Reduces Psychological and Physiological Stress Responses; A.C. Nobre et al.; 2008
The combination of L-theanine and caffeine improves cognitive performance and increases subjective alertness>; Nutritional Neuroscience 13.6 (2010): 283-90