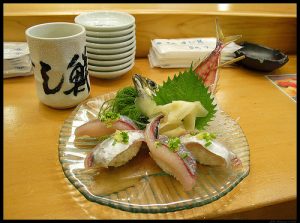 Have you ever paired wine with food?
You can do the same with tea.
There are different ways to pair Japanese green tea with food, as we'll see next.
Pairing Japanese teas with food of similar flavor
In general, Japanese green teas such as sencha pair well with seafood and vegetables.
Most green teas in Japan are steamed, so that they have a vegetal taste and a hint of seaweed. That's why seafood and vegetables make a good match.
Pairing teas high in umami (like gyokuro and high grade sencha) with food that's also rich in umami is a good idea. This includes soy sauce, oysters, tuna, shiitake mushrooms, parmesan cheese, and obviously seaweed.
As for sweetness, you can have a kukicha with your dessert. The sweetness in kukicha is caused by its L-theanine content.
Finally, roasted teas like houjicha and kyobancha go well with smoked and roasted foods.
Pairing astringent teas with fatty food
Astringency cuts through the viscosity of the fat. How about drinking bancha with your cheese pizza?
Sometimes we need to clear our mouth from fat so that we can keep tasting different flavors. That's one reason why green tea is served at sushi restaurants.
By the way, pairing an astringent tea with sour food isn't recommended, because it easily becomes overwhelming.
Pairing bitter with sweet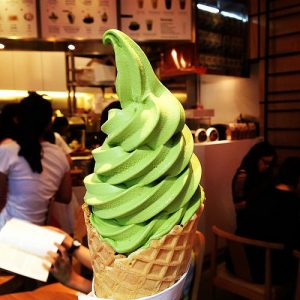 Kitchen grade matcha is much more bitter than ceremonial grade matcha.
For this reason, it is often made into matcha chocolate, matcha ice cream, and matcha latte.
Having sencha or matcha with sweets, such as the traditional wagashi, is also very common.
Japanese tea and rice
I'm not too sure why, but Japanese tea and rice make an excellent pairing.
The perfect example is genmaicha, a green tea with roasted rice. Both ingredients complement each other in a marvelous way.
This tea has such long history that it's normally considered a type of Japanese tea, and not a mere blend.
There's also a traditional Japanese dish with rice and tea called ochazuke. It has become my favorite food with green tea.