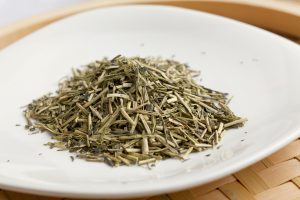 Kukicha (茎茶, twig tea) is special because unlike most teas it isn't made with tea leaves, but twigs and stems instead.
When tea leaves are harvested, they go through a selection process where stems and twigs are separated from the leaves. Nowadays this is usually done by a machine.
Kukicha is slightly sweet. The aroma is quite unique when compared with other Japanese green teas. I don't know how to describe its particular smell, but you'll notice the difference immediately.
Other names of kukicha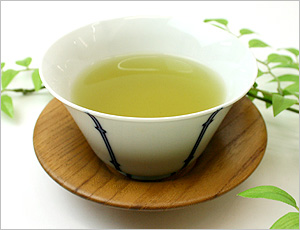 In kyoto it is called karigane (雁が音, wild goose) and it normally means that it's made from the twigs and stems of gyokuro and high-grade sencha.
Obviously, kukicha made from gyukuro is the best kukicha in terms of quality. A kukicha made from bancha will be a very low quality tea, so be careful when shopping.
Why the name karigane, which means wild goose? Apparently, wild geese rest on branches floating in the sea during their migration.
I'm not sure if this is a fact but it sounds very poetic, don't you think?
In other parts of Japan kukicha is also called shiraore (白折, white fold) or boucha (棒茶, stick tea).
Kaga boucha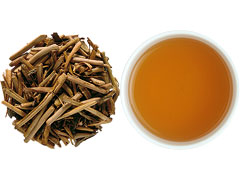 Kaga boucha (加賀棒茶, kaga stick tea) or houji boucha (ほうじ棒茶, roasted stick tea) is popular in Ishikawa prefecture (especially Kaga city) and it is roasted kukicha.
As you can see in the picture, the small stems and twigs have a brown color similar to houjicha.
Perhaps I should have given kaga boucha its own page, but because it isn't as widely known as kukicha I decided to join both of them.
Kaga boucha has a roasted smell and flavor, very little astringency and bitterness. Just like houjicha, it is low in caffeine and catechin because of the roasting process.
Did you know that you can make your own kaga boucha at home?
Compounds in kukicha
Kukicha is sweet because it is high in L-theanine. The reason for this is that L-theanine is naturally produced in the roots, and from there it's sent to the leaves via the stem.
The leaves produce catechins but lose L-theanine through photosynthesis.  Since gyokuro is shaded to avoid this loss, the L-theanine content is even higher in kukicha made from gyokuro.
High L-theanine content and low caffeine results in a sweet flavor with very little bitterness.
How to brew kukicha
The brewing process is almost the same as in sencha. 1 tsp of kukicha (4 gr) per cup (60 ml, 2 oz), 80 °C (176 °F) for 1 minute.
Add the kukicha into your kyusu (Japanese tea pot). Then boil the water, and pour it into the cups to warm then up. Immediately pour the water from the cups into your kyusu (Japanese tea pot). The water temperature should now be about 80 °C.
Let brew for 1 minute, and serve by alternating from cup to cup. Don't pour all the tea into one cup and then the other, because the second cup will be more concentrated that the first one.