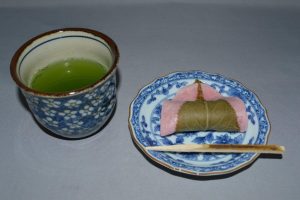 Wagashi (和菓子) is a traditional Japanese sweet made of bean paste, rice and fruits.
It's often served with a bowl of matcha in the Japanese tea ceremony.
There are two types of wagashi served in a tea ceremony depending on the type of matcha:
Wagashi served with usucha (薄茶, thin matcha) is called higashi (干菓子) , a dry sweet often made of rice, flour or the finest quality of Japanese grained sugar: wasanbon (和三盆).
Wagashi served with koicha (濃茶, thick matcha) is called omogashi (主菓子) often made of bean paste, sesame, rice, sweet potato and sugar.
Is wagashi healthy?
Wagashi is a healthy sweet which contains plant protein, fiber, almost no animal fats, and no cholesterol. In this aspect, it is very different from Western sweets.
Red beans often used in wagashi contain antioxidants, high concentrations of catechin, anthocyanidin and more polyphenols than red wine.
Wagashi in the Japanese tea ceremony
Wagashi comforts us not only by its nutritional value, but also its beautiful design that changes throughout the year. In a tea ceremony, the small wagashi lets us appreciate the seasonal changes.
As you can imagine, the sweetness of wagashi and the bitter, deep taste of matcha is a heavenly combination. Some of us pair coffee and muffin, but it's not quite the same.
In the Japanese tea ceremony, guests eat wagashi with a signal from the host (teishu, 亭主) before a bowl of matcha is served. This timing has the purpose of first appreciating the taste and design of wagashi. Later, the focus turns to the taste of matcha while the sweetness of wagashi is still in the mouth.
Wagashi combined with matcha plays an important role in the Japanese tea ceremony as well as in Japanese tea culture.
Have you tried wagashi yet?
About the author:

Reina Sakao is a Japanese living abroad. She loves green tea, the Japanese tea ceremony and Japanese culture.
With the aim of sharing that culture with the world, she runs Sakao Enterprise Group. Among the services offered, there is an online tea shop.