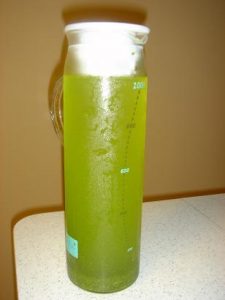 Did you know that it isn't necessary to use hot water to brew your tea?
Mizudashi (水出し) meaning "cold brewing" in Japanese is an easy way to brew your tea without heating the water at all.
Making your own iced tea
Since cold brewing takes some time, it's best to brew many servings at once. I suggest that you brew a whole jar.
First, measure the volume of water that your jar can hold.
Update: Nowadays I like to use the total amount of water that a tea can make including all its infusions.
For example, when cold brewing a fukamushi sencha, I would use 240 ml (8 oz) and 4 grams of leaves. The reason is that this type of green tea can normally make 4 infusions of 60 ml (2 oz) each.
Feel free to find the ratio that works best for you.
Add the tea leaves to the jar and fill it up with water. Now all you need to do is place the jar in the refrigerator and leave it for 8 hours (overnight) or longer. Don't worry, it won't become bitter.
Finally, discard the tea leaves. You can now enjoy your iced tea, and it can last about two weeks if you keep it refrigerated (provided that you aren't adding any sugar to it).
Why aren't cold brewed teas bitter?
I wrote about it in my post about ice brewing gyokuro, but the short answer is that the main compounds responsible for astringency and bitterness (catechins and caffeine) aren't very soluble at low temperatures.
Amino acids in the tea leaves, however, are soluble in cold water. So you can obtain the natural sweetness and umami taste of green tea.
What I like best about this brewing method is that no extra energy is used besides the electricity of the refrigerator, which would be operating anyway.
In my opinion, roasted green teas like houjicha and kyobancha are very good when iced. Genmaicha however, tastes better when hot.
Have you cold brewed your tea yet?