This is part 4 of a series about the World Tea Expo 2016. Click here for part 1.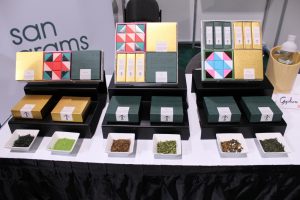 The booth of San Grams caught my attention because of the boxes displayed.
They sell tea and also candy. I tried one and it was very good.
Natsuki Hirayama, the assistant manager, gave me some of her cold brewed gyokuro that had been infused for 10 hours. It was great.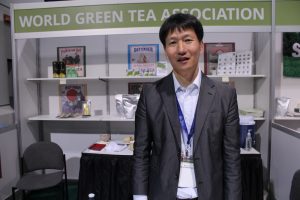 After that I visited the World Green Tea Association. They disseminate information and culture of green tea.
Hiroshi Nishikawa introduced me to some interesting teas. I'm glad I talked to him, he definitely knows a lot about Japanese tea.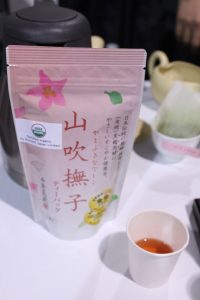 First there was a new type of dark tea, Yamabuki Nadeshiko by Osadaen.
Instead of natural fermentation, tea leaves undergo controlled fermentation with black koji mold.
This creates a tea with two new polyphenols, teadenol A and teadenol B.
I have a sample that I received from another source prior to the expo, I have reviewed it already but haven't published it yet.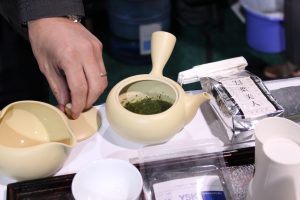 The next thing that Hiroshi let me taste was a hakuyoucha (white leaf tea) obtained by heavy shading.
He prepared it in a similar manner to gyokuro.
It has a higher umami and body than other teas. I felt very fortunate for trying it.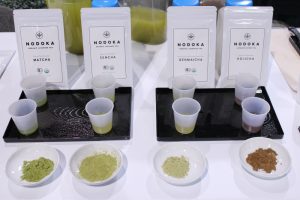 The next booth was Nodoka.
This company sells organic Japanese powdered teas.
Suil Hong, the founder, gave me a sample of his houjicha and I really enjoyed it.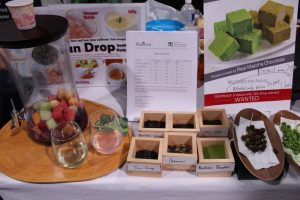 The booth where I had the most fun was Kanes.
Naomi Komatsu and Osami Ogai were very kind. I was happy to see them.
I tried their their tea made with the sun rouge cultivar, the company named it sun drop.
It was like a magic trick because with a few drops of lemon juice it turns pink!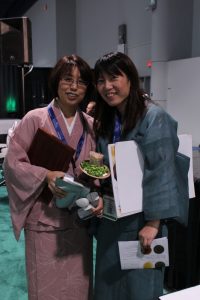 Rachel of iHeart Teas recorded a video about it, I'll share it once she puts it online.
Naomi gave me samples of different types of tea made with the benifuuki cultivar, and one sample of sun drop. I'm very excited about reviewing them.
As if it wasn't enough, I tried their wonderful matcha chocolate! It's hands down the best I've ever tasted.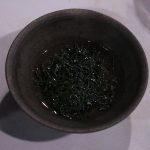 At the end Naomi personally prepared for me a hand-picked shincha that she had brought.
It was quite an honor, the taste was pure umami and freshness, with a lingering sweetnes.
After so much delicious green tea, it was time to shop for tea books.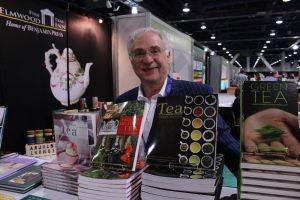 First I stopped at Elmwood Inn.
This was the first time that I met Bruce Richardson.
I bought the book that he and Jane Pettigrew wrote: The New Tea Companion.
He signed the book for me, and after that I went on to look for another author.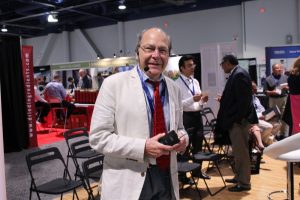 Can you guess who the man in the picture is? The famous James Norwood Pratt.
I bought two of his books, and had to make line in order to get them signed.
Unbelievably, he knew who I was! He had heard about me from Geoffrey Norman of Steep Stories. Thanks, Geoff.
The next post is the last one in the series of the World Tea Expo 2016.