This is part 3 of a series about the World Tea Expo 2016. Click here for part 1.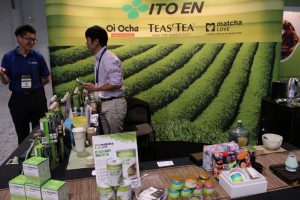 Ito En sells my favorite bottled tea, Oi Ocha. That's why I had to visit their booth.
They kindly gave me a bottle, perfect for the next day's breakfast. This is because I didn't bring tea nor brewing equipment to Las Vegas.
When I travel out of Colombia, I don't carry tea with me, because it's often a hassle with customs. Can't risk the tea leaves being confused with something else!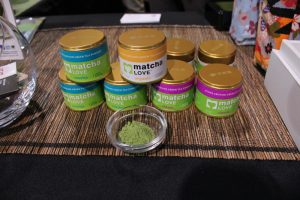 Ito En offers different loose leaf teas and also matcha. They have a variety of matcha tins available.
I took a picture for you to see. I like their matcha, although I must admit that I have only tried one.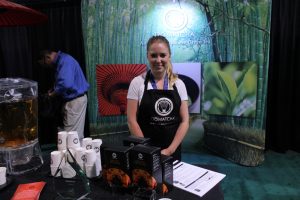 Talking about matcha, I next stopped at the stand of Do Matcha.
I met Janael and tasted a sample of an organic houjicha. It won an award last year.
It was cold brewed, and tasted great. It was very sweet and refreshing.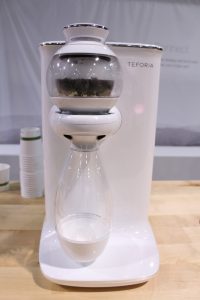 The last booth I visited in the first day was Teaforia.
Allen Han, the founder, and Rie Tulali from Tealet were brewing the same tea in order to show the difference.
The tea was Moonshine, a tea made by the Hariyali Cooperative in Nepal. It's sort of a mix between a white tea and a green tea.
I was able to see the Teforia infuser in action for the first time, although it was the first time that I tried such a tea.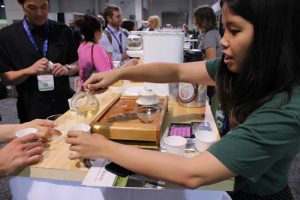 The results from traditional brewing and the Teforia infuser were notably different, but I couldn't decide which one was best.
But anyway Moonshine is quite unique, it's sweet and savory at the same time, but unlike any green or white tea that I had tasted.
The Teforia infuser has a simple yet beautiful design. Hopefully as it becomes more popular the price will become more accessible.
Second day of the World Tea Expo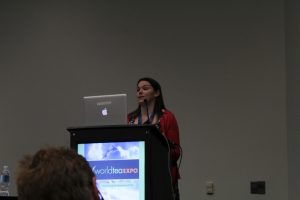 Nicole Martin of Tea For Me Please gave a talk about social media for tea businesses.
The room was packed, I had a hard time taking a picture.
Nicole delivered a lot of value, I learned a lot too.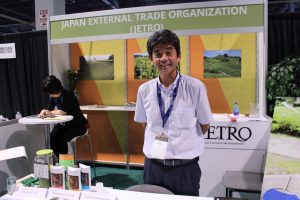 After the conference I visited JETRO (Japan External Trade Organization).
There I spoke with Takuya Ishigaki and Yumiko Yoshimura.
They seemed to be supporting all the other Japanese tea stands, because they had samples from different companies.
The best thing was that they were looking for a member of the press that would write about the Uji region. They said that I was a good match for the program!
I will contact them for more information.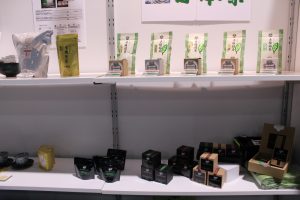 Next I visited Dobashien.
They knew about me already because of past World Tea Expos I attended.
Among the products that they had was a water-soluble organic matcha (no need to whisk), a good range of flavored and unflavored Japanese teas, and a gold leaf tea.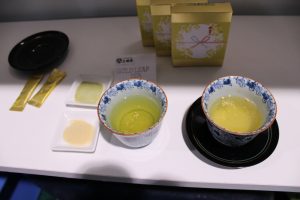 The gold leaf tea (kinpakucha, 金箔茶) consisted of a tea powder and gold flakes.
It's a bit expensive. The idea is to buy as a gift, and it comes in a beautiful package.
The next stand I had on my list was one I didn't know about.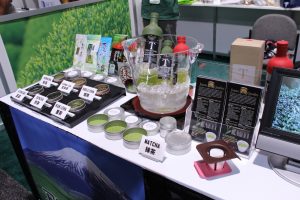 Sasaki Green Tea Company makes all kinds of Japanese tea from Shizuoka prefecture. They also have organic teas.
There I was greeted by Yoshitaka Uchiyama and Kazuhiro Takayanagi.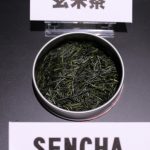 They had a very good looking sencha, I believe it was a shincha (first flush). I just had to take a picture of it for you to see.
The leaves where very shiny, tightly rolled into thin needles, and had a dark green color.
I'll continue talking about the World Tea Expo in the next post.