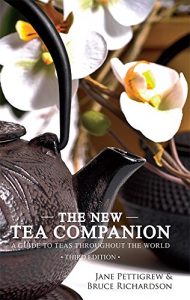 I bought this book at this year's World Tea Expo.
It's the third edition, which has been updated with new material.
The authors are Jane Pettigrew and Bruce Richardson. Bruce was at his booth and he signed the book for me 🙂
I liked the fact that the book is rich in pictures. There's one in almost each of the 260 pages.
The first part of the book is about tea's history. It's a light read, nothing too extensive.
Next there are two parts which make up almost all of the book: Tea production, and Guide to teas from around the world.
The authors did a good job in covering all the basics, such as the tea plant, the types of tea, brewing equipment, etc.
I really enjoyed the last part. It was my favorite.
It's a directory of tea producing countries, along with pictures and tasting notes of some of the teas.
The main countries are described in greater length, while the minor ones have a small section at the end of the book.
It's quite a thorough list. I was surprised to find my home country as well: Colombia. It's the first time that I see it in a tea book.
I'm happy I bought this book. It's a good addition to my collection.
To buy this book from Amazon, click here.