This is the third part of the World Tea Expo 2014 series. If you haven't already, read part 1 or part 2.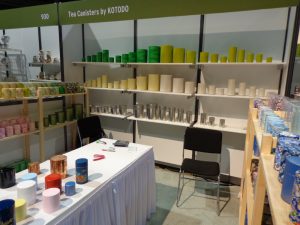 My tea expo adventure continued with Kotodo, a tea canister company.
They had canisters in different sizes and designs. The ones I liked the best were  those that had Japanese washi paper.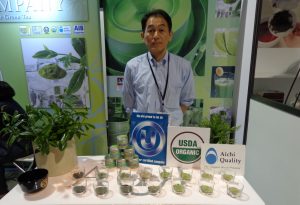 After that I saw a stand exhibiting matcha so I had to take a look. I was greeted by Andrew Ge of Aoi Tea Company.
This company is another large supplier of matcha, and has other Japanese teas as well.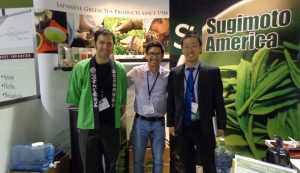 I kept walking around and saw a familiar company: Sugimoto America.
Noli Ergas was talking to a person who had recognized his voice because of my podcast episode. I didn't know I was somewhat famous in the tea world 🙂
Kyohei Sugimoto, who's in charge of Sugimoto America, was also there and we were able to talk for a while. They gave me some samples, which I'm very grateful for and will review on this blog.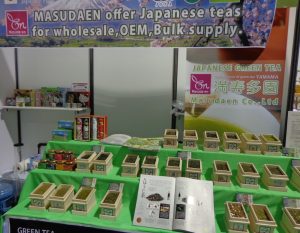 The next booth I visited was Masudaen.
They produce tea in Shizuoka prefecture and have organic certification. In addition, they have a branch office in the US and Singapore.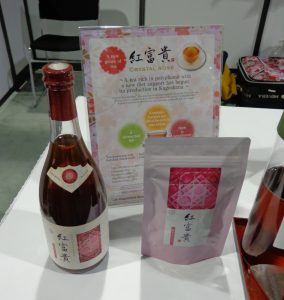 After a short conversation I went to the next stand and saw what looked like a wine bottle.
This product from Kagoshima prefecture is actually a type of tea. It's being commercialized by Kentree.
I don't fully understand it, but it looks like the benifuuki tea is fermented in a controlled manner using yeast. Since fermented teas involve mold instead of yeast, I guess this is actually a new type of tea!
There is also a loose leaf version, but unfortunately I don't have a sample. Maybe I can get one later on when I contact them again.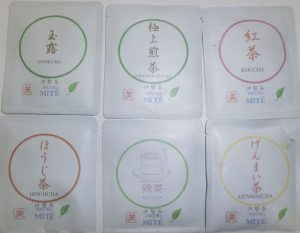 The chain of Japanese tea stands continued with MITE, a company that is introducing tea from Mie prefecture (also known as Isecha) to the world.
Hidenori Moriguchi is a very nice person and passionate about tea. He even speaks Spanish, so we could both speak in my native language.
Mie is a strong producer of kabusecha and konacha. Hidenori gave me samples too, I'm looking forward to reviewing them.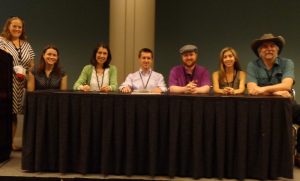 At the end of the the expo for that day, I went to see the Tea Bloggers Roundtable.
Finally I was able to meet many of my fellow tea bloggers!
On the picture from left to right there is Naomi Rosen from Joy's Teaspoon, Nicole Martin from Tea For Me Please, Linda Gaylard from the Tea Stylist, Jason Walker from Walker Tea Review, Chris Giddings from Tea Guy, Jen Piccoti from An International Tea Moment, and Gary Robson from Tea With Gary.
Also on the audience was Nicole Schwartz from AmazonV tea taste tracking and Geoffrey Norman from Steep Stories.
Geoffrey was kind enough to give me a tea gift 🙂 It was good to see him because at first he had said that he wasn't going to make it.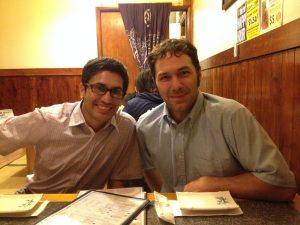 At night, I went with Noli to a Japanese yakitori restaurant in Gardena called Shinsengumi. The food was delicious and we had a great time.
On the fourth and final post, I'll tell you about the other tea companies that I visited in the World Tea Expo.