This is the fourth part of the World Tea Expo 2014 series. If you haven't already, read part 1, part 2, or part 3.

On my last day at the World Tea Expo, I visited the remaining booths that I was interested in.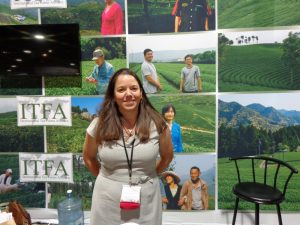 The first person I talked to was Elyse Petersen from Tealet. She was also representing the International Tea Farms Alliance in the same booth.
Both Tealet and the ITFA are novel ideas. I want to speak with Elyse for my podcast, it will be an interesting interview.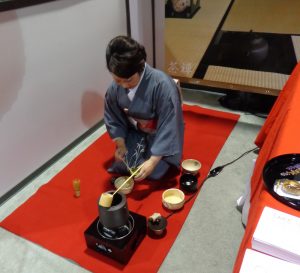 I also had the pleasure to drink matcha served by a master of the Japanese tea ceremony: Rie Takeda from Chazen.
It was wonderful to appreciate her fluid movements, and the matcha bowl was delicious!
I like to drink matcha but I prepare it in a simple way, because I've never learned how to perform the tea ceremony. It would be good to one day learn a little bit on how to do it properly.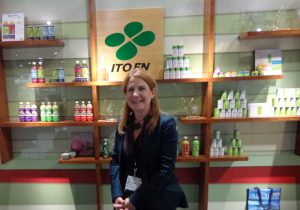 Next I visited Ito En. This company makes my favorite bottled tea: Oi Ocha.
They also have loose tea and teaware in their online store.
Once I received my Oi Ocha bottle (thank you Ito En!), I went to see two advanced tea brewing machines. These machines allow more control over the brewing process and even add additional parameters.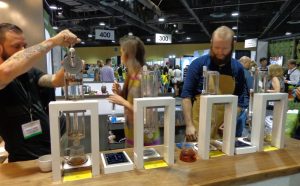 The first one is the Steampunk, from Alpha Dominche.
Jessica Tocci explained to me how the brewing process works. It's controlled with the Google Nexus 7 tablet, it looks pretty cool.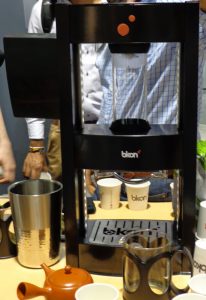 The second machine is the Bkon Craft Brewer. It has a controlled use of negative pressure, which adds to the complexity but also to the possibilities.
These brewing machines are very expensive, so up to now they are being used mainly retailers.
Maybe one day they will be cheap enough so that tea geeks like me can play with them at home 🙂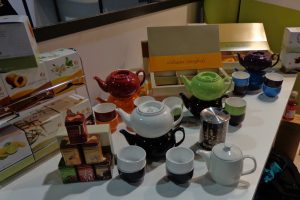 My last visit was the booth from Adagio.
Adagio is very popular online, and as you can see in the picture, it also offers teaware.
Overall, the World Tea Expo was unforgettable experience. I'm very glad that I had the chance to attend it.
There were many more tea companies at the expo than what I wrote about. I just visited the ones that offered Japanese teas.
Over the next months I will be reviewing the tea samples that I received, and will also schedule new podcast interviews.