This is the second part of the World Tea Expo 2014 series. Click here for part 1.
I kept visiting the booths from companies that were either Japanese, or at least carried some Japanese teas.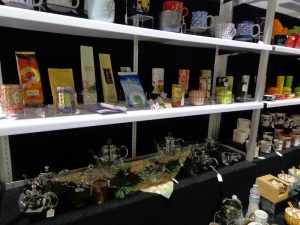 This led me to Fuji Merchandise Corporation.
Besides tea and teaware, they sell a wide variety of items ranging from kitchen utensils to pens and erasers.
However, they don't sell to the public, only to retailers.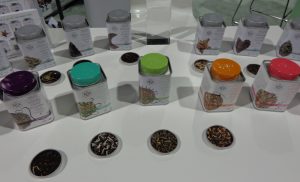 The next booth I encountered was from The Tea Spot.
Along a  good variety of teas, they have tea accessories.
The most interesting one is the Steep & Go, which attaches to a plastic bottle and lets you cold brew your tea just by adding water and tea leaves.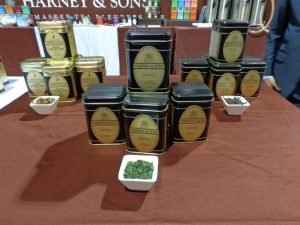 At Harney & Sons I spoke with Michael Harney, the vice president of the company.
This is a large company that sells tea in many countries.
I became interested in their tencha, since it's rarely available to the public, even in Japan. I want to review it in the future.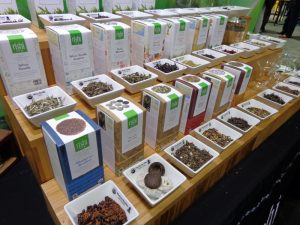 Then I head over to Rishi, which is also a well-known tea company in the US.
Many of Rishi's teas are organic, it's very appealing.
Some of the meetings I had at the expo where actually scheduled beforehand. Since I was a member of the press, I would receive emails from tea companies.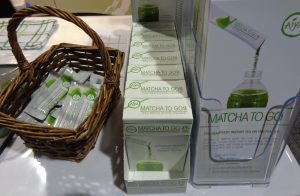 One such meeting was with James Oliveira of Aiya.
Aiya is the leading matcha manufacturer of the world, and they also sell loose leaf Japanese teas.
James is very friendly, and he gave me samples of a new product: Matcha To Go. It has dietary fiber in it so that it dissolves quickly without the need of whisking. I will definitely review it.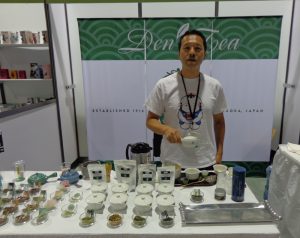 The company I visited next also offers Japanese teas: Den's Tea.
Masanori Shirakata is a Japanese tea instructor, and he sells tea from Shizuoka prefecture through his online store.
I haven't tasted his teas yet, but I'm eager to do so.
Before lunch time, I had time for one more booth. I decided to visit Dobashien, a Japanese tea company that sells tea from Kakegawa city of Shizuoka prefecture.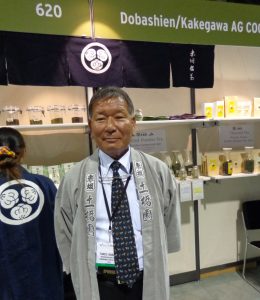 I met with Takeo Dobashien and had a chance to practice my Japanese language skills 🙂
Among other things, Dobashien sells tea to the exclusive restaurants of the Akasaka district in Tokyo, and they have just started to enter the US market.
I was given some samples which I'll review soon. I also looked at their online store in English, it is very nice.
At the same booth I met Ian Chun of Yunomi.life. He was part of  Dobashien's staff at the expo.
It was good to meet Ian Chun in person, he has given the whole world access to many brands of Japanese teas and has also contributed to my blog in the form of podcasts, tea samples and even advertising.
We had lunch nearby and of course, talked about tea. Then I went to his place to pick up two kyusu teapots that I had bought from Yunomi.us, he was kind enough to bring them with him from Japan so that I didn't have to pay for shipping.
Thank you for reading. Be sure to look at part 3 of this series next.