On this day we had the opportunity to see tea fields and tea processing plants in the Uji region.
The sky was cloudy and we did have some rain, but nevertheless I felt in green tea heaven.
Why is Uji tea so famous?
Eisai, who is considered the father of Japanese tea culture, brought tea seeds from China and gave them to Buddhist monk Myōe Shōnin in the 13th century.
The seeds that Myōe planted were the beginning of Uji tea, which is known in Japan as Ujicha (宇治茶).
The process to make sencha and gyokuro were both invented in this area as well.
Tea fields in Wazuka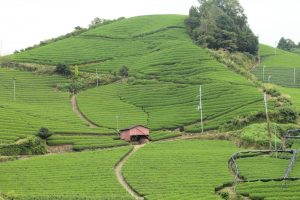 Wazuka town (和束町) is an important tea producer in Kyoto prefecture. A good quantity of Uji tea comes from here.
We visited the Ishitera (石寺) tea field that morning. It is known as one of the most beautiful tea fields in Kyoto prefecture.
If you want to take a good picture of a tea field in the Uji region, this is the place to do it.
Tencha processing plant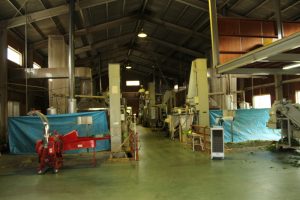 We visited the Kokyo tencha processing plant (古京碾茶加工場).
It seems that they don't offer this tour to the public. We were able to do so thanks to JETRO.
At this time of the year they process autumn tea leaves, which aren't as high quality. So once this tencha is ground, it becomes a culinary grade matcha.
Mr. Kitazawa was there to greet us. We were shown both high and low quality tencha leaves to compare.
The lower quality tencha had a yellow hue to it. It reminded me of the fact that it's not a good sign when you see a yellow colored matcha.
Mr. Kitazawa kindly served us a high quality matcha. It was very good.
38th Uji Tea Competition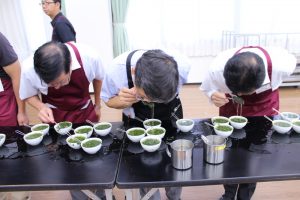 This was the first time that I saw a tea competition in Japan. It was held at the Kyoto Chamber of Tea Industry.
I'm not good at tea tasting, because I lack the practice.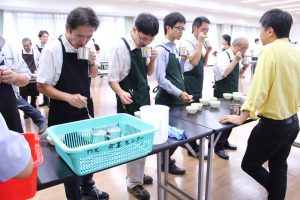 This isn't something that you can just learn from reading a book. You actually have to do it often and become experienced.
That day they were evaluating sencha, tencha and gyokuro.
Tencha is judged instead of matcha, because it is assumed that good matcha is made with good tencha.
Professional tea tasting in Japan doesn't have the same guidelines as for other countries. But let's leave those details for another post.
Basically, the teas are judged with regards to color, aroma and taste.
We didn't stay until the end because the whole competition takes a long time.
They also let us try our hand at evaluating some teas.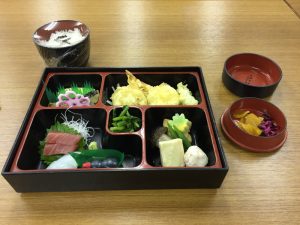 At the end we were also given lunch there.
It was quite delicious 🙂
I felt very thankful for such a good treatment.
We left the main building, but there was still something interesting for us to see right outside.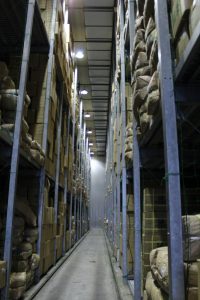 There is a large, refrigerated warehouse to store the tea leaves.
I've been to three such places, and I always remember about the incredible aroma inside.
It's intensely sweet and refreshing. Much better that when smelling the wet tea leaves after infusing in hot water.
Of course, it's also quite cold. I could only stay inside for a short time.
Okunoyama tea field
During the Muromachi period (1336 to 1573), the Ashikaga shogunate designated 7 famous tea fields from Uji. There is even a poem about them.
As time passed by, only the Okunoyama (奥の山) tea field survived. It is owned by Chotaro Horii, who kindly took us to see it.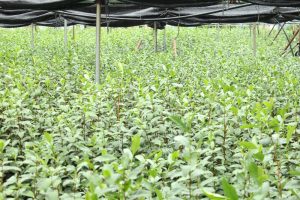 It was a little hard to take a good picture. First of all, because it was raining, and also because the tea field was covered.
There are two types of tea cultivars at the field. One for tencha called Narino (成里乃) , and the other for gyokuro called Okunoyama (奥の山).
We didn't get to try the tea, but I imagine that it must be wonderful.
The company's name is Horii Shichimeien (堀井七茗園).
Yamamoto Jinjirou Tea Store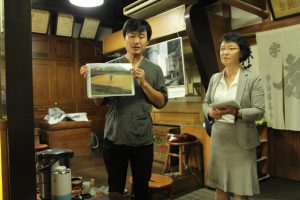 Tea farmer Yamamoto Jinjirou is a six generation tea farmer. His store is located in Uji city.
Inside the store he has the oldest active furnace for tencha. It was made in 1925.
Apparently the furnace gives the tencha (and hence the resulting matcha) an original characteristic not possible from modern machines.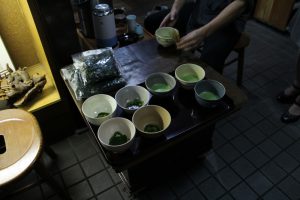 Jinjirou also employs the traditional method to shade tea plants. It involves bamboo blinds and rice straw.
We were fortunate enough to drink matcha and gyokuro that he prepared for us.
He's very friendly, and definitely knows a lot about Japanese tea.
Marukyu Koyamaen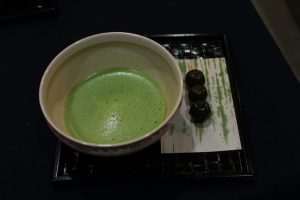 Marukyu Koyamaen (丸久小山園) is a company that focuses on producing matcha. We did a tour of their plant in Uji city.
Our guide for the tour was Cristina Geisse, who is from Chile. I was surprised to meet a fellow Japanese tea lover from South America 🙂
We weren't allowed to take pictures at the machinery.
They had the traditional stone mills in a dark room because light would damage the matcha.
When the tour finished, we were offered a bowl of matcha along with a sweet. They were both very good.
The company also has a store in that location. Besides the matcha, they had many things to offer.
I decided to buy their Unkaku matcha.
Next week I'll publish the last post in this series.