JETRO (Japan External Trade Organization) invited me to a press tour in Uji, Kyoto prefecture.
I'm very thankful, I couldn't have dreamed of a better tea tour.
The other press members invited were Erica Swanson of Tea Bar, Si Chen of Tea Journey, Stéphane Davet of Le Monde, and Linette Lai of The Straits Times.
JETRO staff accompanied us during the tour. I'll list them below:
Satoshi Shimomura, executive vice president
Yumiko Yoshimura, agriculture and forestry product support division, deputy director
Kenichi Ishihara, Kyoto chief director
Yuichiro Ebisu, Kyoto chief
Ryoko Tomoda, agriculture, forestry, fisheries and food division
We also had the support of Oscar Brekell from the Japan Tea Export Council (JTEC).
The first day of the tour was in the city of Kyoto.
Ippodo
We visited the main store of Ippodo in Kyoto.
Ippodo is a well established brand. They have many tea stores in Japan and one in New York.
Ayako Ashikaga and Riichiro Kato were there to receive us.
I knew about Riichiro because we have a friend in common, so it was good to see a familiar face in the first day of the tea tour.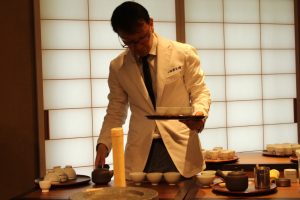 Ayako gave us a short introduction to Japanese tea, followed by a tea tasting. Riichiro was in charge of preparing the teas.
Time flew by at the tea tasting, all the teas were excellent. My favorite was the Rimpo gyokuro.
One thing I liked is that at the end we had hands on practice for tea brewing.
Each person prepared two cups of tea according to the instructions. One cup was for personal consumption, and the other one was to trade with another person to compare the results.
Iyemon Salon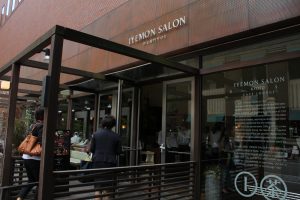 Iyemon is a Japanese brand of bottled tea made by Suntory.
The company made the Iyemon Salon, which is a restaurant in Kyoto with a Japanese tea theme. Their menu changes each month.
You can find dishes with tea, tea cocktails and tea desserts as well.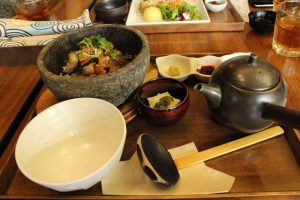 I had the ochazuke, which is a traditional Japanese meal where rice and other ingredients are mixed with green tea.
It was the most delicious ochazuke that I've ever tasted. It's hard to explain, but somehow the flavor of the salmon paired perfectly with the rest of the ingredients.
Urasenke Center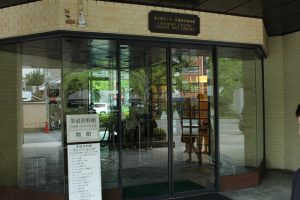 The Urasenke Center belongs to the Urasenke Foundation.
Urasenke is the school of the Japanese tea ceremony with the most students.
We experienced a short version of the tea ceremony with explanations in English. It was fascinating.
The only problem I had was with the traditional way to sit: seiza. Foreigners usually find this position uncomfortable after some time, because we lack the practice and thus our legs aren't used to it.
I have very little experience with the tea ceremony, so I learned a lot.
This activity isn't open to the public, unfortunately. You can take tea ceremony classes, but you must pay for extended periods, not just one class.
But it is rather easy to experience a tea ceremony in Kyoto as a tourist. Please check with your hotel or travel agency if you're interested.
Kiyomizu Temple and Chawan zaka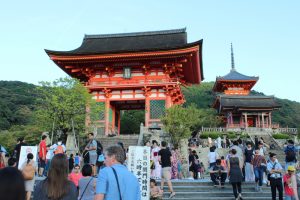 Kiyomizudera (清水寺, pure water temple) was founded in 778 and is a popular destination for both locals and tourists.
I have visited this temple twice in the past.
The temple was very crowded that day, but it felt peaceful.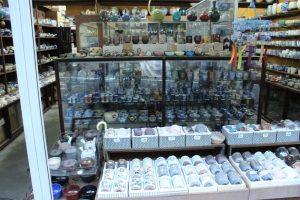 Chawan zaka (茶碗坂, teacup slope) is a part of a street that leads to Kiyomizu temple.
It's called like that because there are many pottery shops.
We didn't have much time, so we just entered a few stores. I could have stayed for hours looking at all the tea pots and tea cups.
Anyway, I didn't buy anything that day because I hadn't found a money exchange yet. I only had a small amount that I exchanged at the airport when I arrived.
Welcome dinner at Hanasato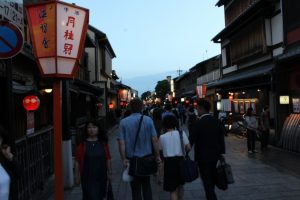 Gion (祇園) is famous for being the geisha district of Kyoto.
The architecture is very particular. The wooden houses contrast with the modern side of Japan.
We were invited to dinner. The restaurant was Hanasato, which specializes in kaiseki cuisine.
This is a traditional Japanese banquet consisting of multiple courses.
I'm glad I was invited here because this type of dinner is very expensive. About 70 US dollars or more for the basic banquet.
Besides JETRO, there were also members of the Kyoto prefecture goverment as well as members of the tea industry:
Takeharo Jofuku, vice governor
Shinji Imai, general director
Shigeo Nakamura, agriculture, forestry  and fisheries department, vice general director
Riichi Yoshida, Kyoto tea production council chairman
Chotaro Horii, Kyoto prefecture tea industry cooperative chairman
Kyugoro Shimooka, chamber of Kyoto prefecture tea public interest incorporated association vice president
Shuhei Akahoshi, Kyoto convention and visitors bureau, department of convention and tourism, managing director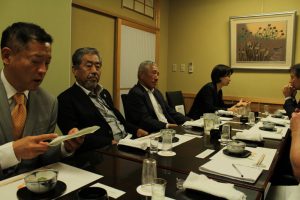 I had never been at a table with so many important people 🙂
This time we skipped the tea and had sake and beer in generous quantities.
There wasn't tea in the main dishes either. However, one of the desserts was a matcha roll cake.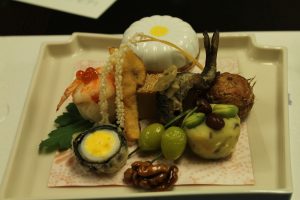 The food was not only delicious, it was beautiful. Pretty much a work of art.
Mr. Yoshida gave each of us a premium bottled tea: Royal Blue Tea.
It's very luxurious, because it comes in a wine bottle and inside a wooden box. I'll make sure to write a review about it later on.
This was the end of my first day of the tea tour. Two more posts are coming up soon.