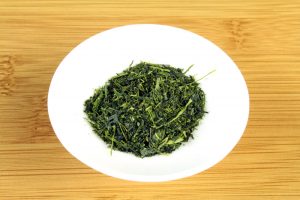 Sugimoto Tea has continued to sell their single cultivar series for wholesale clients.
This first harvest fukamushi sencha from the Saemidori cultivar comes from Hioki city, Kagoshima prefecture.
The farmer uses an organic fertilizer that he makes himself.
I've tried Saemidori as sencha, matcha and gyokuro. Always with good results.
Let's see how this one compares.
Time to drink green tea
The aroma of this tea is quite sweet and creamy, like cookie dough. It's definitely from the first harvest.
I examined the tea leaves and was pleased to see that they have a good color and size. They look fresh.
Since it's a deep steamed sencha, I prepared it with 60 ml (2 oz) of hot water (80 ºC, 176 ºF) for just forty seconds.
Time to smell the wet leaves.
It's a vegetal aroma. The sweetness feels different from the usual Yabukita cultivar, and it doesn't have an intense marine character.
I'll describe it as a sweet green vegetable.
The liquor looks great. A clear green color.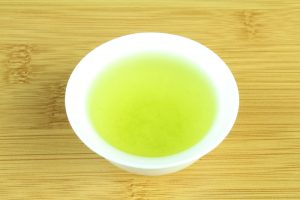 Surprisingly, this tea doesn't have a strong umami taste. I thought it would because of how sweet it smelled, but it isn't bitter nor astringent at all.
I'm not sure if in this case the umami taste has to do with the cultivar itself, or the fact that it's an organic tea.
A light sweetness stands out. Besides the medium umami, it feels very balanced.
I then made a second infusion for twenty seconds.
The green color became more intense. Less umami than before, but still tastes very good.
I can also taste the sweetness in it.
A third infusion for thirty seconds gave about the same color of the second.
While the flavor is lighter this time, it is nevertheless smooth and enjoyable.
For the final infusion, the duration was very short. Only 10 seconds.
Lighter color and flavor. A decent green tea.
While I personally prefer a green tea with a stronger umami taste, this one is very interesting and worth tasting.
I hope that demand for single cultivar tea increases. It will open a whole new world for tea drinkers.