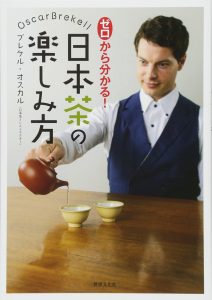 The original title of this book is ゼロから分かる!日本茶の楽しみ方.
It's written by Oscar Brekell.
I wanted to read his three books. This was the one I was missing.
It's only available in Japanese, but I think that it is useful to give you an idea of what the book is about.
An interesting aspect about this book is that it targets beginners in Japanese tea that are Japanese.
Japan is experiencing a revival in its own tea, which is a good thing for all tea lovers.
The book consists of four chapters.
Chapter 1 goes straight into the basics of preparing Japanese tea.
Then it describes the recommended steeping parameters for the different types of Japanese tea.
The second chapter talks about tea quality and teaware.
It's very informative as well.
The next chapter describes alternate ways to prepare Japanese tea.
There's two of them that I didn't even know about. I found them interesting and will be trying them out.
Finally, the fourth chapter gives a general overview about topics such as health benefits, cultivars, and tea producing regions in Japan.
Although this book is geared towards beginners, some of the information is presented in more detail than in his other books.
The pictures are very good. In addition, there are comics strips throughout the book that add a touch of humor.
My favorite is still his last book, The Book of Japanese Tea. But I think that all of Oscar's books complement themselves.