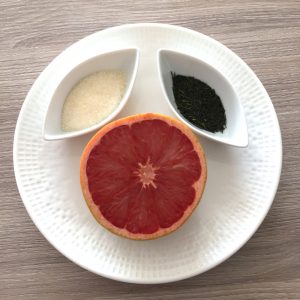 I made this cocktail with a recipe that my friend Kayoko taught me.
She found it in a Japanese magazine, if I'm not mistaken.
The original recipe uses a citrus fruit called kawachi bankan (河内晩柑). It is a type of pomelo.
Since there's no way for me to get that fruit, I used a grapefruit instead.
Also, the original recipe uses shōchū (a Japanese liquor), but for convenience I made the cocktail with vodka.
Here's the recipe:
sencha, 100 ml (3.3 oz)
granulated sugar, 1 tbs
vodka, 2 tbs
grapefruit, one half
First, prepare the sencha and the grapefruit juice. It doesn't matter if the sencha is hot, because we'll add ice at the end.
Mix all of the ingredients, making sure that the sugar is dissolved.
Finally, add some ice cubes. It's an easy recipe.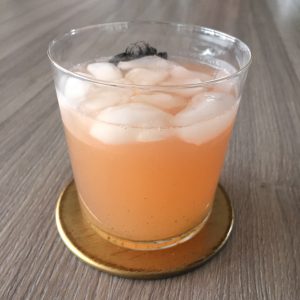 Mixing sencha and citrus fruits makes sense because they are both refreshing.
My wife liked it and so did I.
It's not too strong in terms of alcohol, and not too sweet either.
We prepared this cocktail with Kayoko at a Japanese tea and food pairing event and it was a big hit.