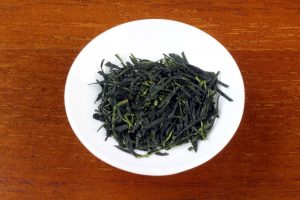 The last time that I tried a tea from Marushige Shimizu Seicha it was very interesting because of how different it was.
I'm excited about this one, because it's my first time tasting the Saeakari cultivar.
As always, I'm very grateful for the tea samples that Yunomi.life sends me.
This tea comes from Mie prefecture and is harvested in spring.
Tasting a Saeakari tea for the first time
The tea leaves have a good aroma. Sweet and creamy. Just like a shincha or gyokuro.
Their appearance is also excellent, as you can see in the picture.
We're off to a good start.
Although it's a kabusecha, I've decided to prepare this type of tea as a sencha for the tea reviews. The reason is that at a higher temperature the aroma can be evaluated better.
So I used four grams of tea leaves, and 60 ml (20 oz) of water at 80 ºC (176ºF). The infusion time was one minute.
I immediately noticed that the aroma is uncommon for a Japanese tea.
There are notes of boiled greens. It has a light sweetness, and it's not a marine aroma but rather vegetal.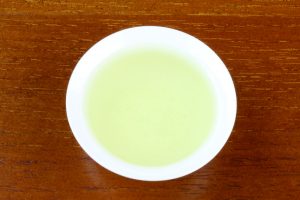 The liquor has a pale green color.
Regarding its flavor, the umami taste is intense but it isn't as strong as I thought it would be. However, it still feels balanced.
It reminds me of edamame, there is a vegetal character to it. I like it.
Compared to a tea made with the Yabukita cultivar, this one is markedly different.
The second infusion had about the same color. I made it in the same manner.
Less umami taste this time, but the overall flavor is similar. It isn't bitter nor astringent.
The third infusion, also of one minute, seems lighter. But it still has an enjoyable sweet aftertaste. It reminds me of a bancha.
I made a last infusion with boiling water for 30 seconds.
But the taste is very faint this time. At least it isn't bitter.
Definitely an uncommon Japanese green tea in terms of taste and aroma.
Here's the link to its product page.