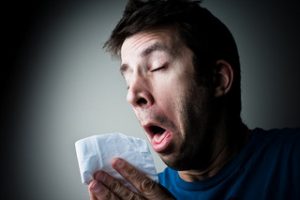 I've always been very allergic.
Dust and pollen makes me sneeze, have a stuffy nose, and itchy eyes.
Two common medications: aspirin and ibuprofen, make my eyes swollen. As if that wasn't enough, I also have gluten intolerance.
I take antihistamines (which give relief to allergy symptoms) about 3 times per week.
According to the AAFA (Asthma and Allergy Foundation of America) "Any food can cause an allergic reaction, but only eight foods cause nine out of ten reactions. They are milk, soy, eggs, wheat, peanuts, tree nuts, fish and shellfish."
Green tea allergy
I drink green tea daily and have no problems whatsoever. I had never heard about anyone being allergic to green tea. However, one day while I was at an online forum someone stated that he had a green tea allergy.
I decided to do more research and turns out that it does exist. I even found cases in Japan. Green tea allergy is quite rare, though.
The likely culprits
Two components in green tea seem to be the general cause of an allergic reaction: caffeine and tannin. The specific symptoms vary from person to person. They include nausea, stomach pain, diarrhea, rash and dizziness, among others.
Some people are unaware of the fact that green tea has caffeine. Matcha (especially koicha) has a high caffeine content, as much as a cup of coffee. Houjicha, on the other hand, is probably the Japanese green tea with the least caffeine.
Tannins are polyphenols founds in plants. Catechins are a sub-group of tannins. You'll find tannins in products in various products such as wine, chocolate, most legumes, some types of nuts, pomegranates, most berries and tea.
Keep in mind that all teas are made with the same plant (Camellia sinensis), so that if you find that you are allergic to one type of tea, then you're allergic to all of them! In the rare case that you are actually allergic to green tea, be aware that some products contain green tea extract.
Allergies due to a green tea product in Japan
A famous case of allergy outbreak in Japan happened with Cha no shizuku (茶のしずく, a drop of tea), a green tea soap with all-natural ingredients. Hundreds of people throughout Japan claimed to have had an allergic reaction to this soap. A few of them had to be hospitalized!
The cause was later found to be hydrolyzed wheat protein. Apparently, repeated exposure for a long time ended up triggering an allergic reaction. By the way, this compound is also found in some cosmetics in the US. If you have a gluten allergy, stay away from such products.
Additives in tea bags?
I recently drank a green tea from a tea bag, it was very cheap, but I can't recall the brand since it was written in Chinese. 5 minutes later I had an allergic reaction to it, I felt a pain in my chest that lasted for about 10 minutes.
I drink loose leaf green tea every day and I've never had a problem, so I suspect that there is something else in those tea bags besides the green tea. I suggest that you drink loose leaf tea whenever possible, and only from trusted vendors.