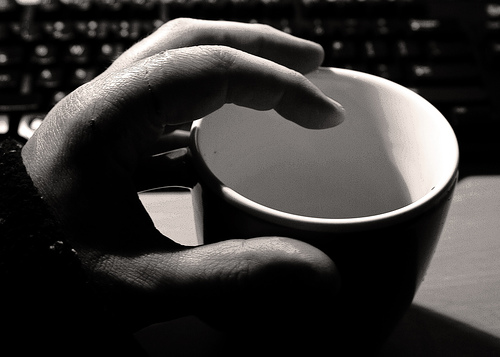 Caffeine, the world's most popular psychostimulant, has both its pros and cons.
Because of health reasons, some people have to lower (or completely remove) their daily caffeine intake.
The fact that tea has less caffeine content than coffee (comparing the brewed liquid) is largely understood by tea drinkers, but there are still some remaining myths regarding caffeine in tea.
Myth #1: You can decaffeinate your tea by a 30-second infusion in hot water
There are some variations for this myth, but the basic idea is that most of the caffeine is removed in that short infusion. This is, of course, absolutely false. If it were true, why would companies make decaffeinated tea by using another, more complicated process?
Besides the studies cited at the end of this post, please take a look at this one, which is a little easier to read. It takes much longer than 30 seconds to get rid of the caffeine, and by then a great deal of tea flavor will be removed too!
As an alternative, you can try tisanes which are naturally caffeine free. Although not technically tea, there are many to choose from. Some flavored teas like genmaicha, have tea mixed with other ingredients. That will lower the overall content of caffeine.
On many of the studies I looked at, the same temperature was used. I wonder if gyokuro has less caffeine than reported because it is brewed at a low temperature, and caffeine is much more soluble in boiling water (according to Wikipedia).
Myth #2: White tea has less caffeine than other types of tea
This myth is quite prevalent, even among tea companies. White tea is made with leaf buds, which naturally have more caffeine than older leaves. Hence white tea should have the same or more caffeine than other types of tea.
Either way, it's very difficult to determine which tea has more caffeine than another based on the type alone. There are a lot factors to consider: the type of tea plant (assamica has more caffeine that sinensis), the type of cultivar, the amount of fertilizers used, the climate, etc.
Processing also plays a part. Houjicha, for example, is low in caffeine because the roasting process destroys some of the caffeine.  In the study Distribution of Catechins, Theaflavins, Caffeine, and Theobromine in 77 Teas Consumed in the United States, a houjicha and two genmaichas showed the lowest amount of caffeine.
Oxidation, however, doesn't seem to play a relevant part regarding caffeine content.
Myth #3 Decaffeinated tea has no caffeine
Decaffeinated tea still has some caffeine left, the process to decaffeinate tea will take most of it out, but not 100%.
Decaffeinated teas are more expensive and sometimes the flavor will be altered in the process. You might as well abandon tea altogether!
If you want a more thorough article regarding caffeine and tea, I suggest that you read the following from Nigel Melican, which was an important resource for my research. He is a renowned tea technology consultant, and his company is named Teacraft.
Additional sources:
Distribution of Catechins, Theaflavins,Caffeine, and Theobromine in 77 Teas Consumed in the United States; Foor Chemistry and ToxicologyJournal
Caffeine Content of Brewed Teas, Journal of Analytical Toxicology