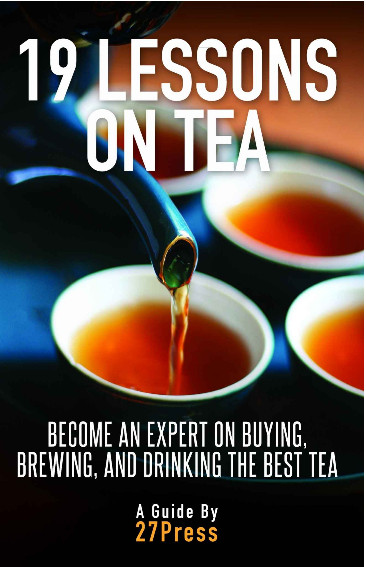 I found this tea guide by 27Press enjoyable, I read it all in one day during the weekend 🙂
Although 19 Lessons On Tea kind of sounds like a long book, each chapter is not so extensive.
As a bonus, the book links to an online resource for added depth.
Tea basics
The first chapter defines tea and quickly talks about it's cultivation and processing, with an emphasis in oxidation. This knowledge will be useful for the reader in later chapters.
Next, there's a detailed chapter regarding the basics of brewing, which I believe is great for beginners.
Types of tea
Chapter 3 to 8 are dedicated to each of the six types of tea: white, green, yellow, oolong, pu-erh and black. This is probably the most interesting part of the book for people wanting to learn about tea.
Each type is described in detail, with general brewing instructions. There's also information on specific teas for each type (it's not an exhaustive list, however).
Let me point out some things that I feel should be cleared up about the information written in these chapters. First, white tea doesn't have "lower levels of caffeine than any other type of tea". There are many factors responsible for caffeine levels in tea, but you can definitely count on buds having more caffeine than older leaves from the same plant.
On the green tea lesson, it's described as milk/cream: sometimes, honey/sugar: sometimes, lemon: sometimes.  I would change it to "rarely".
The general brewing instructions may also be not broad enough. In green teas the temperature is given as 170°F to 180°F, and the steeping time from 2 to 3 minutes. That's too hot to brew gyokuro and the time a bit long for bancha.
More about tea
Now let's take a look at chapters 9 to 11.
The chapter about iced tea was unexpected, but I liked it. You'll learn three methods for making it, so you can choose the one that works best for you.
Next there's information about blends, flavored teas and herbal teas. It's a good addition and these chapters aren't too long. Describing herbal teas in detail will require a book on its own!
Additional chapters
The second part of the book covers topics such as buying tea, accessories, regions, and health.
I liked the chapter about buying tea, it has good tips. I'm sure readers will appreciate it too. Another chapter that is fun to read is the one titled "Regions and Rituals".
Regarding health, the guide talks about caffeine and antioxidants, nothing elaborate (no citing of sources) but it's good to know.
Again, there's another myth about caffeine included in the guide that I have to warn you about. You can't expect that just because you steep for 30 seconds and then discard the water, you've  effectively "decaffeinated your tea".
In case you haven't already, read my post regarding caffeine in tea myths.
Online resources
After you register, you'll get access to the online resources. There you'll find recommended tea sites (this blog included 🙂 ), a pronunciation guide, glossary, and a template for tea notes, among other things.
It's always nice to get these kinds of freebies.
Final thoughts
This is a good book for beginners: not too complicated and it covers the basics. I wish it included some pictures, that would have been helpful.
Apart from the small errors I pointed out, the book delivers what it promises. That is,  the reader that's starting to learn about tea will gain enough knowledge to confidently enter the world of tea. As with most things in life, the rest is just practice.