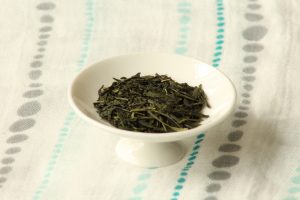 On my last day at the World Tea Expo 2015 I was well received by Kanes, a Japanese tea company from Shizuoka prefecture.
They let me try their premium matcha chocolate. It's truly one of a kind, absolutely delicious.
I was also fortunate enough to get a sample of their organic sencha, which I'll be reviewing in this post.
This is a first flush, organic sencha from the Yabukita cultivar. Definitely a good green tea to start this week.
I smelled the tea leaves and there is mostly a sweet aroma to them. It's hard to describe, but I think that it's not a complex sweetness like you may find in a gyokuro, if you know what I mean.
The tea leaves have a good appearance in terms of color, shape and size, although many are considerably broken down.
It could be my fault, though, because this sample was at the bottom with many teas on top of it. I need a bigger apartment to store my tea 🙂
All good up to now. Let's taste this sencha.
Organic tea tasting
I used 60 ml (2 oz) of hot water (80°C, 176°F), 4 grams of tea, and brewed for a minute.
After the infusion, the wet leaves have a vegetal and slightly sweet aroma.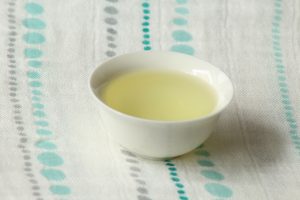 This tea has a pure yellow liquor, there is no green hue in it.
I only have this sample, so I had to focus on the taste before going on with the pictures and all. Sometimes tea bloggers only have one chance to get the tasting right!
My verdict is that it's a well-balanced sencha, almost what I'd call "neutral". It's rather light, refreshing, and with some umami flavor.
I've heard that organic Japanese teas have a flavor that's not as bold. I haven't tested this claim, but it seems to be the case here.
With respect to astringency and bitterness, they are present in the right amount.
For the second infusion I obtained a similar cup of sencha, but this time the bitterness is more noticeable.
I think of it as a good sencha with a standard flavor, nothing too outside the norm.
Kanes has won many awards in Japan since 2002. I'm wishing this company a lot of success in the US market.