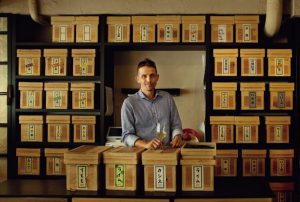 Stephane Danton is a Frenchman that opened a Japanese tea café in Japan: Ocharaka.

A man of stubbornness and prudence, Stephane has mentioned how he has found beauty in Japanese tea.
This is what made him move forward with promoting Japanese tea in his own way, which is through flavored teas.

Many people in the Japanese industry dislike the idea of flavoring Japanese tea, but he has shown that flavored teas can be a gateway to the world of tea in general.
Who is Stephane Danton?
Stephane Danton comes from a city called Lyon in France. He is a wine sommelier who used to work as a consultant for bridal bouquets. In fact, this is how he stumbled upon Japanese Tea.
He was assigned to work in Japan in 1992 in the bridal industry, but instead, he took a special liking to creating a refined non-alcoholic beverage, which will go well with good and tasty food.
Years after getting inspired and trying his hand at developing this non-alcoholic beverage, he finally managed to open up his own tea shop. In 2005, Ocharaka was born.
Japanese tea at Ocharaka
In Tokyo, ocharaka is the ideal place to go to if you are looking to relax with a cup of fragantly-scented Japanese tea. There's one store in Kichijouji, and another in Coredo Muromachi shopping center, Nihonbashi.
There are many tea flavors at Ocharaka, made in such a manner that the base tea still plays the central part. All the blends are done by Stephane himself.
Moving forward with Japanese tea
Stephane is considered a relevant person in Japan's tea world, so much so that he was chosen as a representative at the Japan Pavilion for the World Expo in Spain, 2008.
Guests who visited the expo were treated to a nice cup of Valencian orange-flavored tea that was a great hit.

Not many Japanese agree with him about selling flavored Japanese teas but he does have Japanese customers, mostly young people. Obviously, tea lovers already drink tea, but getting people interested in tea from scratch is another story.
The demand for loose leaf tea in Japan has fallen dramatically because of bottled tea and even coffee. Stephane wants to help change this negative trend.
The future of Japanese tea according to Stephane

The reason Stephane learned about Japanese tea was to spread the word about it. Based from his own experience, he found that Europeans in general were not interested in Japanese tea, or at least they didn't like the taste of it. So, he came up with this idea to mesh Japanese tea into European tea.
Once they liked the taste of what he was giving them, they wanted to know what the original Japanese tea tasted like. Stephane is looking forward to expanding his business worldwide, but first he would like to start with his home country, France.
He plans to open another Ocharaka there to make French people have a taste at his Japanese tea. Seeing that coffee is the most popular hot beverage in France, it will be a pleasant change for the French to experience Stephane's teas.
This post is brought to you by Srilankavisa.org, which  was founded in 2011 by migration lawyers. It provides professional consular service to Sri Lanka, including ETA to Sri Lanka.