This is the final post in a series about the World Tea Expo 2015. Click here for part 1.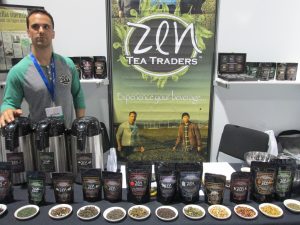 Another interesting booth from a company that I didn't know of was Zen Tea Traders.
Anthony Capobianco, the company's founder and CEO, told me that he sources his "zencha" sencha from Kagoshima.
I think that the picture in his banner is from Kagoshima, it definitely looks like a Japanese tea field.
I gave a try and it had a good taste. It's high in umami, it reminded me of gyokuro.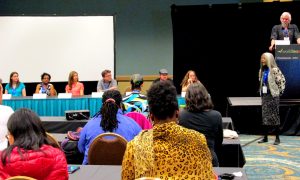 Then I attended the Tea Bloggers Roundtable.
This event consists of a panel discussion where people questions related to tea blogging are answered. It's also a good chance to meet most of the tea bloggers in one place!
From left to right, the panelists where Nicole Martin, Rachel Carter, Jen Piccotti, Geoffrey Norman, Chris Giddings, Naomi Rosen, and Jo Johnson. The moderator was Gary Robson and Nicole Schwartz was live-tweeting the event.
I also met Charissa Gascho and Natasha Nesic, and together with the panel we drank a Scottish white tea brought by Geoffrey.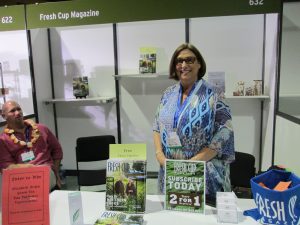 While in the exhibit hall, I stumbled upon Fresh Cup Magazine.
I received a copy of the magazine, it has very interesting articles regarding specialty coffee and tea. Jan Weigel is the publisher, I got her card too.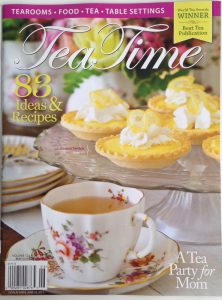 After that I visited another magazine: TeaTime Magazine. It focuses on tea and food.
TeaTime won this year's award for best tea publication. I was given a sample and took the picture for you to see.
The photography is very good and in this edition there were many recipes, I got hungry just by looking at them.
Once I had a quick lunch nearby, I was ready to visit more booths.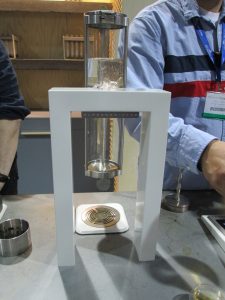 Alpha Dominche had its Steampunk brewing machine on display.
I had spare time so I tried two of the teas that they were brewing.
These machines are for coffee and tea houses. They are controlled trough a Google Nexus 7 tablet.
After so much tea a sweet would be nice as my dessert for the day.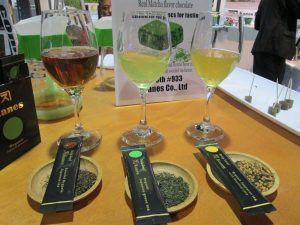 Fortunately, I sampled a wonderful matcha chocolate from Kanes Co. This was the best sweet I tasted at the expo!
Kanes offers organic Japanese tea, and they have received many awards in Japan.
I'm happy that I took samples with me for review.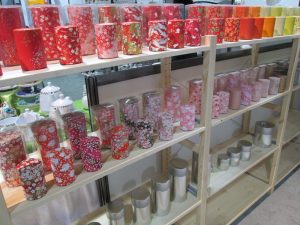 From there I went to Kotodo, and took a picture of their beautiful tea canisters.
I would love to have a collection of Japanese tea canisters. Of course, with tea in them.
Another item to add to my wishlist.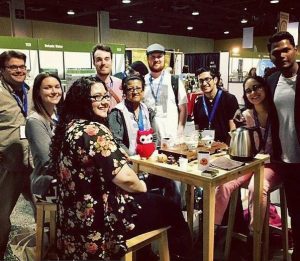 Finally, I went with a group of tea bloggers to the booth of The Finest Brew Co.
We were greeted by Geesa and Chetha Senadeera. They sell tea from China and Sri Lanka.
Among the different teas that we tasted, the most notable ones were two aged oolongs, 25 and 28 years respectively!
Overall the World Tea Expo was an unforgettable experience for me, it's like a three day tea party 🙂
There were also various awards, which I will list below. Congratulations to the winners!
2015 World Tea Awards
John Harney lifetime achievement: James Norwood Pratt
Best tea publication: TeaTime Magazine
Best social media reach: Nicole Martin
Best tea industry website: Adagio Teas
Best tea business: Tea Source
Best tea blog: World of Tea
Best tea eduator: James Norwood Pratt
Best tea health advocate: Jane Pettigrew
Best tea marketing: Harney & Sons
Best tea industry innovator: Tealet
Best tea personality: Jane Pettigrew