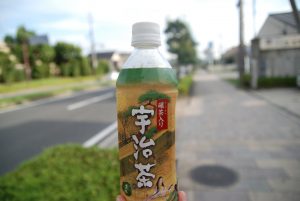 It can hardly be argued that Japanese Green Tea is becoming popular and is gaining more recognition outside of Japan.
Because of the recent discoveries regarding the health benefits of matcha, this variation of Japanese tea in particular is having an impressive market growth in Western countries.
However, in Japan the reality is close to the opposite. Partially because of the invention of bottled tea, the traditional loose leaf tea is being shoved to the background, whilst matcha is close to being perceived as an exclusive and luxury product solely used in the tea ceremony.
The ease of only having to pick up a bottle, as compared to having to brew the tea by yourself, has already had a great impact at the base of this issue. In this guest post, I wish to briefly portray my perception and opinion on the current status and problematic of the green tea industry in Japan.
I would like to indicate that though influenced by data and perceptions from reliable resources, the opinions as presented below are solely my own. The subject is open for discussion and I will be happy to receive any comments or criticism if your vision or understanding might differ.
Recent history of the green tea market in Japan
In the late 90's Japanese green tea sales gradually entered a period of stagnation. In order to support the regular green tea farmer, it was necessary to blow a new breeze in the industry.
It was around this time that the invention of tea in pet bottles took place. By 1999, bottled tea increased its share on the Japanese green tea market and by 2005; this innovative approach already gained most of its current popularity.
In order to support this new "market", an approximate amount of 26,000 tons of tea leaves were required, which resulted in a completely new demand for tea.
This new approach to Japanese tea was a success in terms of supporting the tea farmer and in creating a new demand for larger amounts of tea. However, the ease of just having to pick up a bottle gradually led to a deviation from regular and higher-grade leaf tea consumption.
High quality tea variations such as gyokuro or high grade sencha dropped in demand, while the production of lower grade sencha and similar lower grade tea leaves experienced a tremendous growth.
Of course, it goes without mention that other factors such as the availability of other western drinks such as coffee, black tea and soft drinks also played a part in this change. The market became more competitive and tea had to adapt to this.
Something that illustrates this change rather well is the gradual disappearance of the Japanese tea pot, or kyūsu, from contemporary, mostly younger, Japanese households. A kyūsu used to be available in every household several decades back, but  households have replaced this item by coffee machines nowadays.
As society has become more rapid and tense we have lost our patience, the ability to wait. The Japanese teapot and tea leaves have been replaced by easy to use tea bags and drink-ready pet bottles. In succession, the understanding and knowledge of how to brew a delicious tea has gradually started to fade and this leaves other higher-grade tea variations suffering.
The tea industry, however, understands and recognizes the graveness of this drawback and has already taken counter measures to overcome this new issue. I would like to introduce three of the main solutions which are currently being applied in order to re-educate the population on their culturally valuable product, tea.
The Japanese Tea Instructor Association
Founded in 2002 as an NPO, the Japanese Tea Instructor Association (日本茶インストラクター協会) educates instructors, who on their turn can, with the knowledge and data provided by the association, re-educate the people regarding tea variations, brewing methods, other applications of tea, etc.
Currently, the organization also educates tea advisors and conducts a private and voluntary examination to test your basic understanding and knowledge of tea with the intention to educate the regular person with a basic understanding that can be applied in their everyday tea experience.
Japanese green tea cafes
Another approach is the rise of Japanese green tea cafes, restaurants and bars. Where in the past green tea was close to solely available for free as refreshment upon entering a restaurant, now different tea variations can be enjoyed at these specialized places.
Usually a few varieties such as sencha, gyokuro and matcha can be enjoyed, often thanks to a Japanese tea instructor or advisor. In further attempts to re-educate the customer, at most places, separate events, workshops or specified classes are organized. It is thus not surprising that many tea stores put this opportunity to use and now also have their separate cafe compartment where customers are received.
As mentioned earlier, green tea is usually served as a welcome drink upon entry of a store or restaurant and sometimes even after lunch or diner. These tea refreshments are usually free of charge and are perceived as a mandatory custom in Japanese etiquette.
Since these teas are usually bancha, hōjicha or other lower grade varieties, this particular perception makes it difficult for Japanese green tea cafes to convince the customer to pay for a cup of higher grade sencha or gyokuro and that their quality is worth the price.
On the other hand, the Japanese customer doesn't hesitate when purchasing a western beverage such as a coffee or black tea. In order to re-instigate and grow the recognition of Japanese green tea, the industry will have to overcome this hurdle in order to eventually compete on a fair level.
Green tea sweets
Matcha has been used in food and rice cakes for centuries. The understanding that tea can also be eaten has forever been present in Japan.
Only recently has this aspect of tea consumption taken a new turn and is being applied to western sweets as well. Various "matcha-flavored" sweets such as cakes, macarons, candies, etc. are being produced and have become extremely popular, especially among the younger generations.
Not only is the sweets sector a new support to keep the green tea demand going, is it also the perfect signboard for Japanese green tea cafes. Because of it's popularity, sweets can be employed to catch the attention of new customers and create an opportunity to spread information on higher grade teas as well.
Japanese green tea has always been in constant flux. The Japanese teas that we know today are most certainly not the teas that were known a few hundred years back. A few examples of how the perception of tea changed are: when the manufacturing method for sencha was invented in 1738 by Nagatani Sōen; or when the demand for matcha declined in the early 19th century and gyokuro was invented as a new way of processing tencha leaves; or when in the early 1920's hōjicha was discovered as a method to process merchant's stocks when sales stagnated to recuperate older leaves.
All these periodical and societal influences brought about a shift in the approach and usage of tea. The same can be said of the invention of the pet bottle and the processing of green tea into sweets.
Society has deviated from an older way and now calls for a new and fresh approach. As the industry most greatly affected is the farming industry, the changes reflect here as well. For example, when the demand for pet bottle tea rose, tea farmers adjusted to produce more tea leaves suited for pet bottle use. And with the upcoming of tea sweets and also the rising demand for matcha abroad, tea farmers gradually started to shift their production to tencha leaves to meet with this new demand.
As I mentioned at the beginning, there is a rising demand for matcha outside of Japan. The main reason for this is mostly because of recent research leading to the discovery of various health benefits, and as the West has grown more health conscious in the last few years, this aspect manages to draw a lot of attention.
As Japanese Green Tea is struggling with domestic demand and with the re-education of the consumer's understanding and interest of higher quality, green tea in general and matcha in specific are being received with arms wide open on an international scale. Japanese green tea farmers are shifting their production to tencha as the base for matcha products and many Japanese tea stores are taking the leap outside of Japan.
In succession to new inventions and the discovery of new approaches to Japan's tea, perhaps the time has come to leave its trusted environment and expand its borders?
To me the answer is clear. Re-educating the Japanese consumer is one thing, but bringing the enjoyment, powers and benefits of Japanese green tea to an international consumer base is a much greater challenge and I aim to make my contribution to the cause.
How do you think the Japanese tea industry is about to evolve and what shifts do you foresee for the future? Let's continue the conversation in the comment section below.
About the author:
Tyas Huybrechts, born and raised in Antwerp, Belgium​. Currently resides in Osaka, Japan.
He is the author of Tea Talk, soon to be certified Japanese Tea Instructor and Tea Master in the Enshu-ryu tea ceremony tradition.