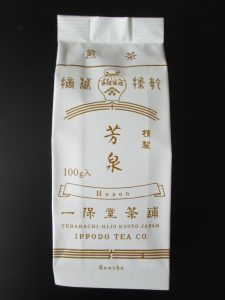 It's been a while since I reviewed a sencha, but thankfully Ippodo sent me their Hosen Sencha.
This sencha blend is of premium quality according to Ippodo, and above it there's extra-premium and ultra-premium.
The tea leaves come in a 100 gr bag, as you can see in the picture.
Inside, there are fresh green tea leaves that are shiny and tightly rolled into a needle shape. It's without a doubt a high quality sencha.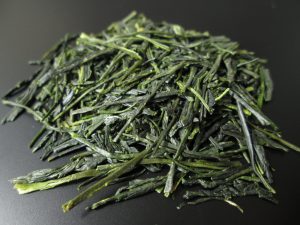 I smelled the leaves and felt a fresh, creamy aroma with a little sweetness. So far so good.
With such a tempting tea, I was having a hard time waiting for the water to boil  🙂
Tasting Hosen Sencha
As I do for every sencha,  I used 4 grams of tea leaves for 1 minute in 60 ml (2 oz) of  water at 80°C (176°F).
The wet leaves smell like seaweed. It's quite good.
The tea itself still has a creamy aroma to it, while still having the fresh smell of sencha.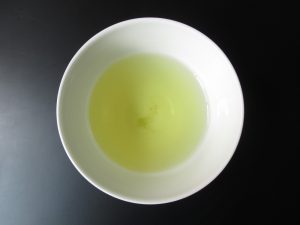 Judging by the aroma, I thought that the liquor would have a strong yellow color, but it wasn't the case. Still, it's very pleasant to observe.
For the taste, I found quite a bit of umami, a slight sweetness, and some bitterness and astringency. It reminds me of a shincha.
This tea is definitely rich, with a fresh aftertaste.
I also made another infusion, this time the tea had a brighter color and the taste was similar except that it was a little more bitter. Still enjoyable, though.
Conclusion: A refreshing green tea with a rich taste and a wonderful aroma.