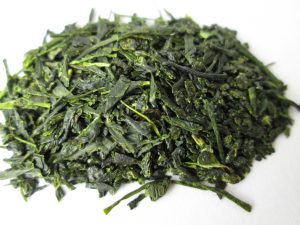 Yume is the name given to this ichou fukamushi sencha from Iruma, Saitama prefecture.
It's the first time that I try such a tea.
It will also be the first time that I taste a tea from the Yumewakaba cultivar, so this is a special tasting for me 🙂
If you want to learn more about ichou (slight withering) green teas, listen to my podcast with Cha Doraku.
As all deep steamed senchas, the leaves are notably broken down into small pieces. I can see that they are shiny and have a fresh look.
The tea leaves have a creamy, sweet aroma to them.
Tasting an icho fukamushicha
The suggested brewing is one teaspoon of tea leaves per 120 ml (4 oz), steeping for 1 minute in 85°C (185°F) water. Since it's my first time with this type of tea, I'll do just that.
The wet tea leaves have a sweetness to them, and more importantly, an aroma similar to gyokuro.
For the first infusion, the result is a bright green liquor that has a creamy and sweet aroma, it also seems a little floral to me.
The tea has a good body, with notable umami flavor and barely noticeable astringency.
For the second infusion, I followed the guidelines as well: 90°C for 30 seconds.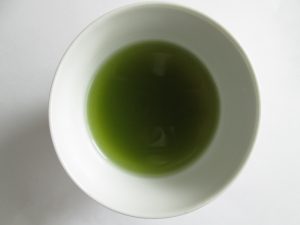 Now the liquor is much darker. It's just like the usual fukamushi sencha, as you can see in the picture.
The color change is so drastic that I'm wondering if perhaps my leaf to water ratio was off in the first infusion?
This time there's even more umami, and slight bitterness. It also tastes quite good.
Finally, I made a third infusion with the same parameters and had a very similar cup of tea.
I was very pleased with this tea.
In the near future I'll taste another ichou green tea from Cha Doraku that isn't deep steamed, so that I can better understand the role played by the extra withering step in the process.