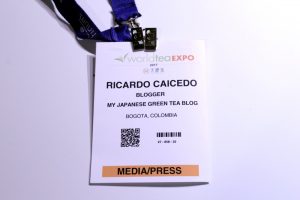 At first I didn't think that I would be able to attend this year's World Tea Expo.
My finances weren't good, but in the end things got better so I came to Las Vegas with my brother.
First day of the World Tea Expo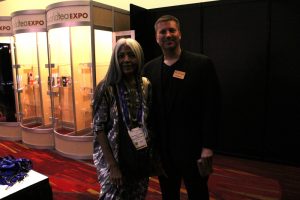 I came early to the convention center for my press pass.
Aaron Kiel (PR person for the WTE) and John Johnson from Scandalous Tea were in the press room. I was happy to meet them.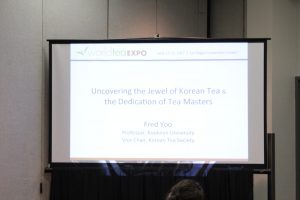 The first conference that I attended was about Korean tea.
I didn't know anything about the subject, so I was looking forward to it.
The speaker, Fred Yoo, is vice chairman of the Korean Tea Society and a professor at Kookmin University.
I learned a lot, I'm very glad that I attended. Mr. Yoo also has a good sense of humor 🙂
I would put my newly gained knowledge to use when I visited the Korean tea stands on the expo floor later on.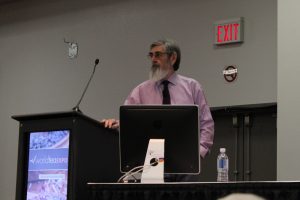 The next conference was: The Chemistry of Tea Production, by Nigel Melican of Teacraft.
His talk was very interesting. Few can match Mr. Nigel's expertise and knowledge in tea production.
One of the topics he discussed focused on the chemical changes caused by shading the tea plant as done in Japan.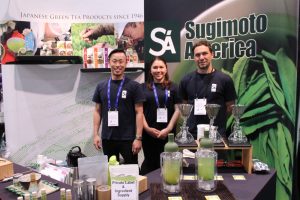 Then it was time to head to the exhibit hall.
My first stop was Sugimoto America.
Kyohei Sugimoto, Sara Kaiden and Noli Ergas were at the stand.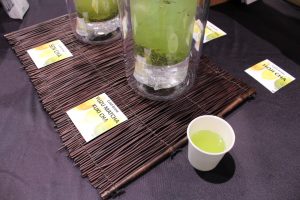 They had displayed a new product, thay has been improved upon since last year: yuzu matcha kukicha. Yuzu is a citrus fruit from Asia.
It did have a yuzu flavor, and it had the right amount of sweetness, although I was expecting to taste some sourness but there was none.
It's a good tea, very aromatic. I don't drink much flavored teas, however.
The next stand on my list was JETRO.
I'm very thankful because they invited me to a tea tour last year as a member of the press.
I talked with Yumiko Yoshimura and Ryoko Tomoda, which had been with me in the tea tour.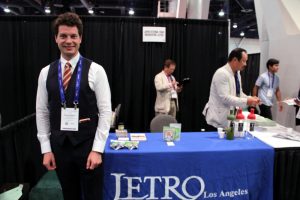 Oscar Brekell was also there. He doesn't work directly with JETRO, but with the Japan Tea Export Council (JTEC).
He's quite famous in Japan. We're planning a podcast interview for the near future.
At JETRO's stand I tasted a cold brewed gyokuro. It was very refreshing and savory.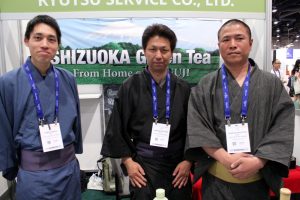 Next I visited Ryutsu Service, a tea manufactureer located in Shizuoka prefecture.
I spoke with staff member Tomoki Inoue.
The company's president Yoshiaki Hattori and Kunikazu Mochitani were also present, so I seized the opportunity to take a picture.
The company makes a top quality matcha. Last year, Mr. Hattori himself prepared one for me.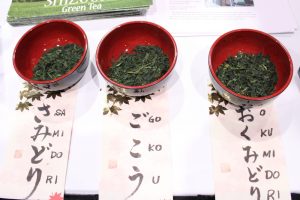 They had tencha on display from different cultivars, as you can see in the picture.
I was given a sample of an organic ceremonial matcha, I'll definitely review it.
As for their other products, I looked at a gyokuro for cold brewing.
You just need to insert one tea bag into a plastic bottle with water and then shake it.
I'll continue this series about the World Tea Expo in the next post.