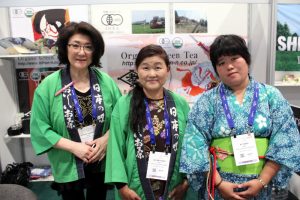 I kept focusing on the Japanese tea companies on the first day of the expo.
Nihon Nosan makes organic tea in Shizuoka prefecture.
From left to right in the picture: Satsuki Yamamoto, Kiyomi Tarui and Ai Tarui.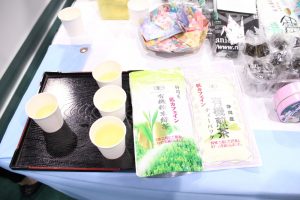 The company produces many teas, but what stood out were their organic low caffeine teas.
They use a special process so that green tea loses more than half of its caffeine content.
I tried it and the taste was good.
I looked at their catalogue and they have an organic low caffeine matcha. They say that it's less bitter than ordinary matcha. I wonder what it tastes like.
Many of the tea companies from Shizuoka prefecture were grouped in the same area.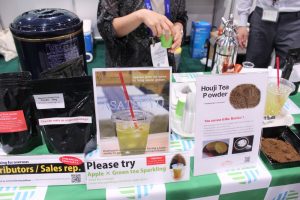 The next company I visited was Kanei Hitokoto Seicha.
I was greeted by Yoshie Suzuki and Hidemitsu Iwase.
They also had a good variety of teas.
I tried their houjicha latte and liked it very much.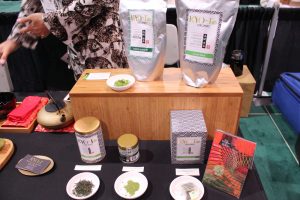 After that I met Hitomi Okuno, who is a private chef and also sells Japanese tea under the KYO-T brand.
The tea comes from Uji and is organic.
I liked her focus, she is making green tea trendy for the younger generation.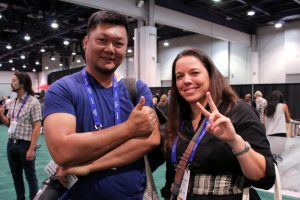 While walking around the expo, I saw Elyse from Tealet.
She introduced me to Alfredo Lin of Goe Tea.
He's a very friendly tea farmer from Taiwan. We chatted for a while.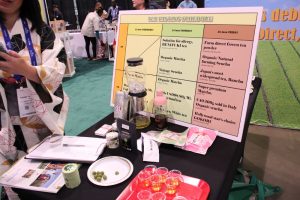 The next booth I visited was shared between two Japanese companies.
The first company was Aglobe, it was representing a number of Japanese tea companies.
I had met Osami Ogai at a previous World Tea Expo. She recognized me as soon as she saw me.
The few teas that I tried there were very good.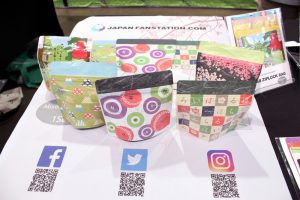 The second company at that booth was Yoshimura Package Partners.
Tatsuyuki Ishizawa had tea ziplock packages for display, they were cute.
They will send the packages from Japan by EMS, even if it's not a large quantity.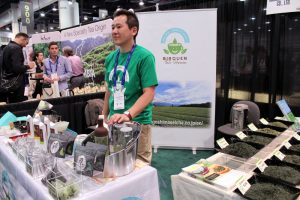 Another familiar company is Kagoshima Seicha.
I spoke with sales chief Yuki Tomiyama.
I tried cold brewed sencha and gyokuro. Both were very refreshing and of good quality.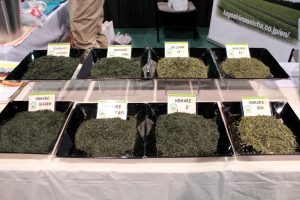 They had some of their green teas in display, as you can see in the picture.
I haven't visited Kagoshima prefecture, but it is the second largest producer of tea in Japan.
See the next post for the third part of this series.