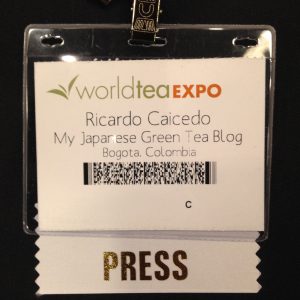 This year the World Tea Expo was held at the Long Beach Convention Center, the same place as last year.
I was invited as a member of the press, thanks to Aaron Kiel of the ak PR Group.
Since I visited many booths, I will write this series in different parts.
First of all, I must say that I didn't get to visit all the booths at the expo. There were just too many!
I had a list of the ones that I definitely wanted to visit (which included all the Japanese tea companies), but in the end I didn't have the time so a few went missing.
Day 1 of the World Tea Expo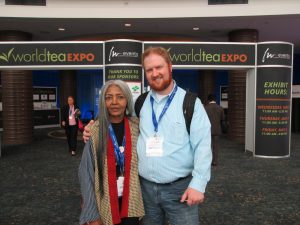 The first people I met were fellow tea bloggers, among them Jo Johnson of Scandalous Tea and Chris Giddings of Teaity.
I'll tell you more about the rest of the bloggers later on, because we all met at an event inside the expo.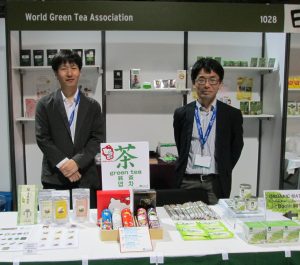 The first booth that caught my attention was The World Green Tea Association.
This association was established by the prefecture of Shizuoka, (the largest tea producing region of Japan) and has the goal of promoting green tea worldwide.
I talked with Hiroshi Nishikawa (manager) and Wataru Fukuda (researcher from Stanford University).
It was a good chance to practice my Japanese. Wataru was kind enough to join me for lunch so that we could chat some more.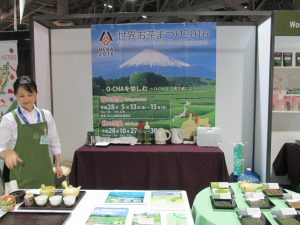 Shizuoka prefecture also organizes the World O-Cha (Tea) Festival, which I haven't been to but is definitely in my wish list 🙂
The event happens twice a year: spring and autumn. Next year it will be from May 13-15 and Oct 27-30.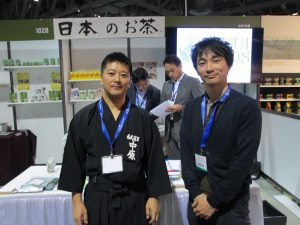 At the third part of this shared booth there was Mitsui & Co.
This is a very large company, and in their food and beverages division they have a tea department.
In the picture you can see Takeshi Nakahara and Kazuya Matsumoto.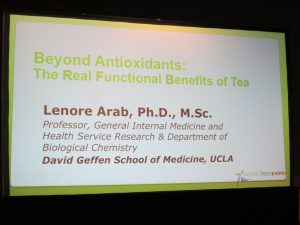 After that, I had a conference to attend.
Lenore Arab, a professor at UCLA, talked about antioxidants in tea. More specifically, that the health benefits of tea aren't explained by antioxidants. In fact, there is no human evidence of beneficial physiological effect related to dietary antioxidants.
It was a very interesting topic. I will keep an eye on related research for a  future post.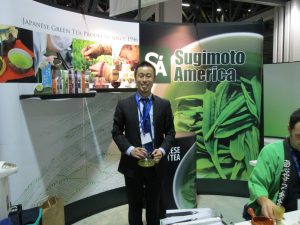 Next I visited Sugimoto America, where I talked with my friends Kyohei Sugimoto and Noli Ergas.
By the way, the day before I went to a Japanese restaurant with Noli, just like we had done last year. We had a fun time.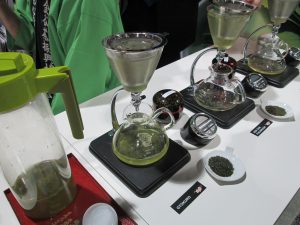 One of the teas offered for tasting was an ice-brewed gyokuro, which was delicious.
I also received a special edition fukamushi sencha from Sugimoto America. It comes from Kakegawa, Shizuoka prefecture.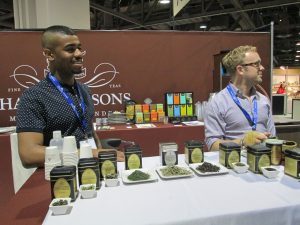 Another familiar booth was Harney & Sons.
I was lucky enough to be offered a taste of their Unjonomoto matcha.
It was wonderful. I hope I can make a proper review of it in the future.
Thanks for reading until now. Part 2 of this series will continue my experience at the World Tea Expo.