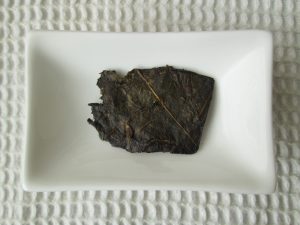 This rare Japanese dark tea is made by Furyu and sold by Yunomi.life
It is pickled in a fermentation process involving lactic acid bacteria, hence it has a sourness to it.
At first it looks similar to the usual, compressed dark tea. But if you take a closer look, the leaves are actually unrolled and stacked on top of each other.
Goishicha is often used as cooking ingredient, especially in a tea rice porridge called chagayu. By smelling it, I can understand why.
The aroma is very unusual. It reminds me of soy sauce, with a brothy and maybe even a little sweet component.
Tasting goishicha for the first time
I'm not sure what to expect, this tea looks very different from any that I've tasted before. Tasting a type of tea for the first time is always fun 🙂
The steeping instructions are to use one block of goishicha (about 2 grams), and 350 (11.6 oz) ml of boiling water for 5 minutes.
My kyusu can hold up to 360 ml of water, so it works perfectly.
After serving the first infusion, I can see that the block still retains its shape and has a lighter soy sauce aroma with some sweetness. It also has a clear aroma of prune.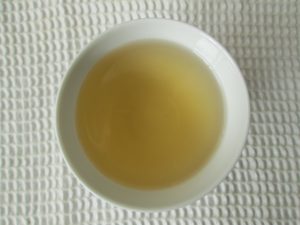 Unlike the wet tea leaves, the golden liquor doesn't smell much.
The taste is counter-intuitive, because the aroma made me expect a brothy, full-bodied flavor. Instead, it is now slightly acidic, as if someone had added a few lemon drops.
The overall flavor seems light, without bitterness and a slight astringency. I think that there's also a faint sweetness in there.
It's the first time that I try a Japanese tea that has a sour flavor in it. It's not excessive in my opinion, and I bet that it has potential for some interesting food pairings.
You can make up to 4 infusions with goishicha. I made a second and third one and found that they tasted very similar.
There's also a way to tone down the acidity of this tea according to the manufacturer. All you have to do is cool it in the refrigerator.
While I didn't dislike the sour flavor, I saved some of the tea from the first infusion and cooled it for some hours.
Amazingly, most of the sourness was gone.
This tea is very hard to find in Japan, but you can easily purchase it online. It's a good opportunity to try a very unusual tea.
If you're interested, here's the product link from Yunomi.