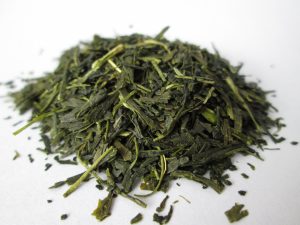 I received this sencha sample from Hidenori Moriguchi of MITE.
This company sells tea from Mie prefecture, and is just starting to reach out to the global market.
Made in the Misugi area of the city of Tsu, this premium sencha has dark colored leaves which are finely rolled.
The leaf aroma is slightly vegetal and creamy, it's definitely not your average sencha.
Shall we give it a try?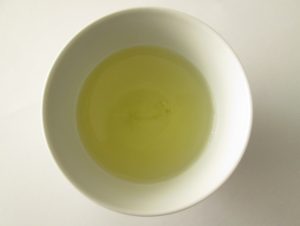 Brewing it with the standard technique of 1 teaspoon of leaves, 60 ml of water at 70ºC (158ºF) for 1 minute, we get a liquid that's light yellow with a greenish hue.
Before the first sip, it I smelled the tea. It has a faint, grassy aroma.
Flavor-wise, it's quite good. I didn't find any noticeable bitterness, and the astringency is toned down.
This tea might be good for beginners, since it doesn't have the characteristic seaweed-like flavor. It's quite easy to drink, even the aftertaste is gentle.
The second infusion was also pleasant, I had no problems with it.
My opinion is that this is a good green tea, with a straightforward taste. If you find that green teas are generally too strong for you, this might be a good choice.