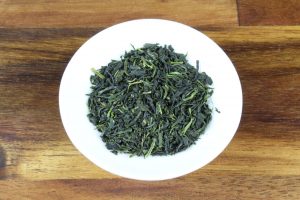 This is another interesting tea sample courtesy of Ian Chun from Yunomi.
Tomizawa Tea Garden is located in Mashiki town, Kumamoto prefecture. The company was founded in 1930.
They have won a number of awards for their tea.
I'm eager to taste this tea because it's from the Okumidori cultivar and it's a steamed tamaryokucha.
Tamaryokucha has a different shape than sencha, and Kumamoto prefecture is one of the places where this tea is traditionally produced.
My first Okumidori tamaryokucha
As you can see in the picture above, the tea leaves are a bit curly.
They are small, dark green in color, and have some young stems.
The aroma is fresh, creamy and lightly sweet, like a shincha.
This tea can be prepared just like a sencha.
I'll use 60 ml (2 oz) of water at 80 °C (176 °F) for one minute, although 70 ºC (158 ºF) would probably be better in terms of taste.
I find that at a higher temperature it's easier to judge the aroma of the wet leaves.
Very well, let's infuse it.
It has a marine aroma. Fresh and vegetal.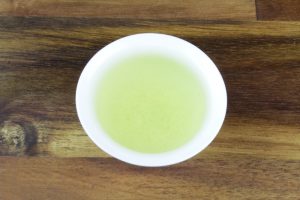 The liquor is green.
As expected, it has an intense umami flavor. Delicious.
Not bitter nor astringent, it seems like a balanced Japanese green tea.
Another thing that stands out is a long and fresh aftertaste.
Let's make a second infusion with the same parameters.
This time it has the same color, and almost the same flavor.
While the umami taste is lighter, it's still a good cup of tea.
For the third infusion, the color is slightly darker.
Less overall flavor, but it is balanced.
A fourth infusion will probably taste too weak, but I'll try it anyway.
I used boiling water for 5 seconds.
The result tastes watery. I guess it was better to stop at the third one 🙂
I liked the first infusion best, it was splendid.
A good tea to have because tamaryokucha isn't so common, especially from a cultivar other than Yabukita.
Here's the product link from Yunomi in case that you are interested in buying it.