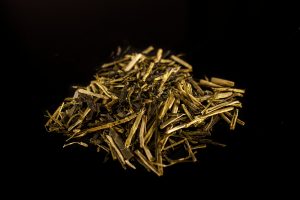 This tea from The Taste of Tea is very unique. It's made of tea stems and sakura (Japanese cherry blossom) leaves.
It won the first place in the blended green tea category of the North American Tea Championship 2012.
The karigane comes from Yabukita tea plants in Kirishima, Kagoshima. Meanwhile, the sakura leaves are from Izu Oshima, the largest of the Izu islands.
I've never tasted sakura leaves before, so I was very interested in trying this tea. As an added benefit, it's also organic.
According to the vendor, the leaves are first preserved with salt. Then the salt is washed off and this takes the sourness away. Finally, the leaves are dried.
It seems that the sakura leaves are more aromatic than the flowers themselves.
Sakura karigane tea review
My first thought was that it looks like a kukicha with green tea leaves, except that they are sakura leaves. Not that I could tell the difference just by looking 🙂
The smell is very sweet, I liked it a lot. For a comparison I smelled a kukicha,  and noticed that the sakura karigane has a more intense, sweeter aroma.
The recommended steeping instructions are: 1 teaspoon, with 6 oz of water at 165°F (73°C) for 30 seconds.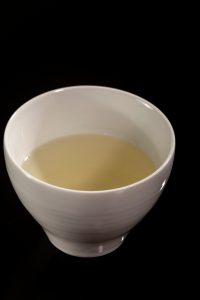 The liquid has a light green color and the smell is sweet, although not as much as the loose leaf.
I think that it tastes more like a sencha than a kukicha, which is surprising. It's a mellow taste, with little astringency and bitterness.
The sweetness is there, but it's not so pronounced.
I made another two infusions with the same settings, and as far as I could tell they were all the same.
A soothing tea, which is also very easy to brew. I think most people will find it pleasant, because it's quite mild.