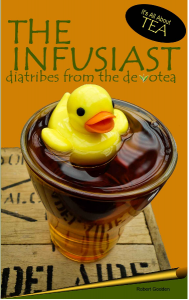 This tea book is different from the others in the sense that it's not mainly about facts and figures, but more into opinion and a good dose of humor.
The Devotea, also known as Robert Godden, sells tea at The Devotea and also writes regulary in his blog. It's quite fun, you'll find some great posts there.
Robert is known for his irreverent but humorous writing style, and also the fact that he doesn't like Japanese teas 🙂
The book is divided into short chapters, called "pots". I'll give you a quick overview of them.
First Pot: Teas
This chapter has essays about teas, such as  Margaret's Hope and Lapsang Souchong. It has some history about the teas and his opinion. Sorry, no Japanese teas in this chapter.
Let me include a  short quote so that you can get a taste of Robert's humor:
(About Darjeeling) "… some people call the champagne of tea. I would never even compare a bottle of bubbly stale grape juice to the glory of a good tea."
Second Pot: Sources
This chapter talks about tea producing countries. It's the only place in the book where he dedicates and essay to Japan!
You'll find the usual countries such a China and India, plus a few surprising ones.
Third Pot: Pioneers
Another interesting chapter, where you'll read about Robert Fortune, Thomas Twining, and even Lu Yu.
There are also two "dishonourable mentions". They were fun to read as well.
Fourth Pot: Moments
This time the focus is on history in general.
There's a chapter about the legend of tea's discovery by Shen Nong that is quite funny. Among other things, he discusses the origin of iced tea.
Fifth Pot: Blogs Revisited
If you haven't read The Devotea's blog yet, this chapter will save you some time. It has reprints of some of his best posts.
Sixth Pot: Let's Cook
A few recipes with tea are included in this chapter.
The recipes themselves aren't that complicated. It's a good addition to the book.
Seventh Pot: Odds and Ends
The final chapter, with some essays and blog reprints that didn't fit anywhere else 🙂
Also as enjoyable as the other chapters. There's even a piece of tea fiction for your delight.
I had a fun time reading this book, it's not lengthy and the price is reasonable.
You can buy the ebook version from Amazon here.
If nothing else, you'll have a good laugh.