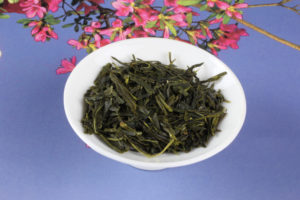 I received a sample of an organic sencha from the Fujimidori cultivar, courtesy of Sugimoto Tea.
This tea is made in Kawane, Shizuoka prefecture.
It's an uncommon cultivar for sure. That's why I find it interesting.
You can purchase it from Sugimoto Tea's website, although only for a limited time.
Let's get ready to infuse
The leaves have a good color, but I would have liked if they were rolled more tightly.
There's something odd about their aroma, perhaps a fruity note. But it's mostly a sweet fragrance as with any first harvest sencha.
Here are the brewing parameters: 1 teaspoon of tea (4 gr), 60 ml (2 oz) of water at 80 ºC (176ºF) and an infusion time of 60 seconds.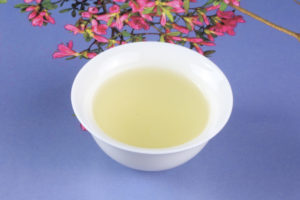 As a result we have a pale yellow liquor.
Now I'll concentrate on the aroma of the wet leaves.
I find it vegetal, and not as sweet as the dry tea leaves.
And now the most important part. Let's drink it.
The first thing that stands out is that it has an intense umami taste.
It's definitely a vegetal flavor with good body.
I liked this infusion, it is a pleasant cup of green tea.
On to the second infusion. I decided to lower the time to 40 seconds.
The liquor has a more intense yellow color.
While there's less umami taste and it's slightly astringent, I enjoyed it.
A third infusion of 30 seconds resulted in less body and a lighter taste. Not bad.
I'll take out all the flavor that's left for the last infusion.
So that means boiling water for just 10 seconds.
The flavor is too light this time.
This cultivar does taste different than Yabukita, but since it's still a vegetal quality to it, the change is not so extreme.
It has a rich first infusion but after that the flavor fades quickly.
While this cultivar is a sibling of Shizu-7132, their aroma and flavor aren't similar at all.
I liked this one better.