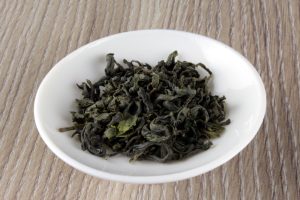 I received a special sample from Sugimoto Tea.
It's a single cultivar kamairicha from this year's spring harvest.
This type of tea is uncommon, but it's even more uncommon to find it made from another cultivar other than Yabukita.
The Samidori cultivar is often used for matcha.
It will be interesting to see what it tastes like as a kamairicha.
It is made Shizuoka prefecture by tea farmer Watanabe Jun.
Let's get started
This tea has a sweet aroma. It doesn't feel very vegetal nor marine.
One can easily tell that it's not a sencha.
The tea leaves are curly, and have a light green and grey color.
Their surface seems to be rough.
I'll use 4 grams of tea leaves, 60 ml (2 oz) of water at 80 °C (175 °F), and let steep for 1 minute.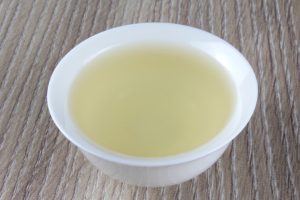 The tea is ready. It's a clear, yellow liquor.
But before drinking it, I need to smell the wet tea leaves.
This time it has a slightly marine aroma. Not as sweet as before.
After tasting it, I feel that it's similar to a Japanese oolong with low oxidation.
It has body, and some umami taste.
There's a light sweetness too.
As in the aroma, it doesn't feel like like a sencha. There's not much marine nor fresh aroma.
While the overall flavor seems light, it has a light astringency that I find enjoyable.
For the second infusion, I lowered the time to 40 seconds.
Now it doesn't have much umami taste, and the astringency increased.
It's okay, sort of like a bancha.
I decided to use boiling water for the third and last infusion.
Just for 10 seconds.
Less flavor, and a light bitterness.
It was an interesting experience.
I liked its aroma, and it's easy to notice that it isn't a steamed green tea.